Credit Union marks another successful financial year
27-June-2012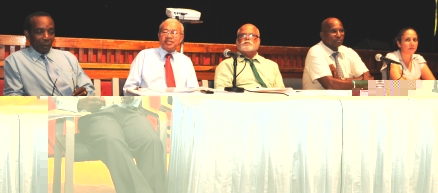 Members during the AGM on Saturday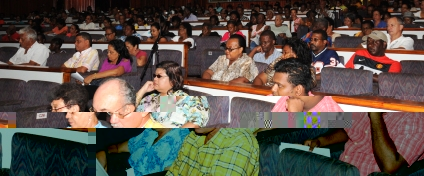 At its 42nd annual general meeting (AGM), held at the International Conference Centre, chairman Selby Dora said the SCU, which operates as a cooperative society, continues to attract new members -- 630 last year -- bringing total membership to over 11,000.
Members were reminded of the organisation's guiding principles, which are : 'Save regularly, borrow wisely, repay promptly'.
Chief executive Louis Sham Hong, who presented the accounts for 2011, said that total income had grown to R13.9 million, from R12.2 million in 2010, an indication that members were saving more.
He also noted that revenue is earned from interest on loans to members, as well as interest invested in government securities, such as treasury bills and bonds.
Mr Sham Hong said that 973 loans were made out in 2011, averaging R73,000, compared to an average R34,000 for 2009, which was the year following the launch of the macro-economic reform programme (Merp).
He also said that recovery of bad loans in 2011 had greatly improved.
Responding to a member's question, he said that guarantors have since 2005 been made to sign more binding agreements.
Answering another member, who wanted to be updated on the theft of R74,000 from a SCU staff member on Praslin, secretary Emile Esparon said that insurance had reimbursed 90% of the funds.
He said that staff going to the bank with cash are provided with escorts to deter such incidents.
Based on the recommendation of the board of directors, members resolved that a dividend of 6.5% be paid on their shares. This is money invested in multiples of R100 for any period over one year. A notice of three months must however be given for any withdrawal.
Many members were however dissatisfied that interest on savings remains at only 2%. This is paid quarterly.
It was also proposed that the stipends of the board of directors and members of the supervisory be hiked by 10% to cover the increased cost of living.
The proposal also encountered opposition from some members, who noted that they had been hit by higher living costs too and had not received any salary increment since several years.
In the end, the issue was put to a vote and the resolution carried by a slim majority.
At the AGM, Mr Dora was unanimously re-elected as chairman. Nine other candidates were proposed for the new SCU board of directors: Emile Esparon, Bernard Elizabeth, Roger Mancienne and Dora Ernesta were elected.
The new board will now choose the new chief executive officer.