GST concessions for hotels extended to December 31, when Vat will take effect
28-June-2012
This was announced at a joint press conference yesterday by the Minister for Finance, Trade and Investment Pierre Laporte and that of Tourism and Culture Alain St Ange following protests by the hotel trade, through the Seychelles Hospitality and Tourism Association (SHTA) last week.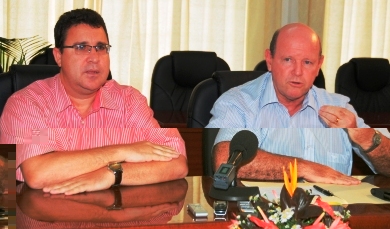 Mr Laporte however made clear that the 15% GST will not apply to goods imported by the hotels, but will apply to goods purchased from establishments operating in the SITZ, such as ISPC and Global Supplies.
He noted it was unfair to most shops that some outlets could sell at concessionary rates.
"When Vat comes into force on December 31, the GST concessions under the Tourism Investment Act (TIA) will cease," he said.

Mr St Ange said it was necessary to address the concerns of the hoteliers to avoid any malaise in the tourism industry.

He said tourism remains the number one economic pillar and the main revenue source for the national economy.
Mr St Ange however said that there is also the need for a level playing field for all economic stakeholders in the country.
The SHTA last week expressed concern that the scrapping of all concessions until the application of Vat at the end of this year will mean extra hardship for some hotels, which are already hard pressed by increased charges for public utilities and fuel.
Mr Laporte explained that concessions under the TIA were given at a certain period when many hotels were still in their infancy to allow them to establish themselves on a solid footing.

Now that the establishments are "mature" or firmly established, these concessions have lost their "raison d'être", he said.