Ministers look into hotel staff's welfare
28-June-2012


The delegation visiting the laundry (left) and kitchen departments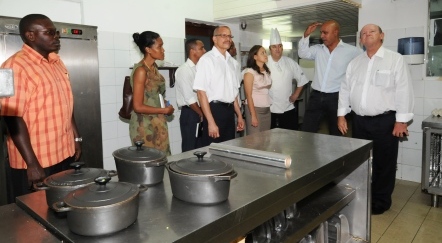 Also present was the hotel's general manager Imran Azhar who led the way for the ministers to areas like the laundry,
workshop, spa and kitchen – to name a few – where various concerns were raised and questions asked regarding staff welfare.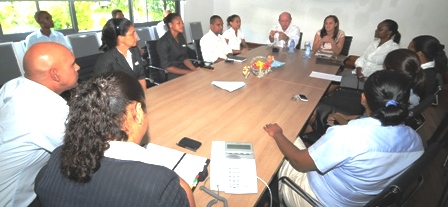 Mr St Ange said the aim of the visit was part of his effort to familiarise himself with all sections under his ministry and said it was important for the Seychelles Tourism Board to "get involved in what Seychelles is selling as a destination".

"My biggest concern for the moment is one of the kitchens which need renovation," he said, adding he is satisfied with the overall staff treatment.
He said he would come back for a follow-up to see whether renovation suggestions have been done and if not, will write a letter to the general manager of the hotel.
"If need be, we at the Ministry of Tourism and Culture will put pressure on hotel owners to make them realise the country needs hotels that are up to par," he said, adding in terms of staff welfare, more incentives should be introduced to reap maximum productivity from them.
Ms Alexander said her visit to the hotel was part of her familiarisation visits and to see how the hotel operates.
"As minister for Labour and Human Resource Development my focus is on staffing issues, working conditions at the hotel as well as human resources," she said, adding she had received some complaints from hotel staff but is happy that most have been solved.
Ms Alexander said the only other problem encountered is a lack of communication and suggested more forward discussions be held between staff and management while induction booklets can help new staff understand what is expected of them.

"We also have a lot of work to do in encouraging our Seychellois workers into middle management positions and to do that, training is required," she said.

Ms Alexander said she hopes after her visit to the hotel, her suggestions will be taken into consideration and encouraged hotel management staff to remain close to the ministry and direct any problems they may have to it.

Currently, Le Meridien Barbarons has 200 staff of whom 19 are expatriates.