New state counsel sworn in
30-June-2012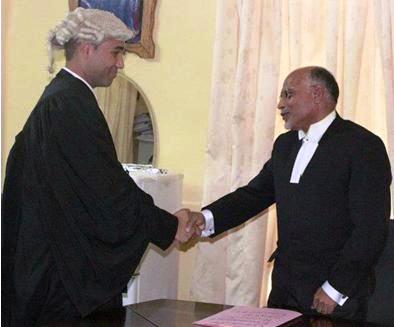 Prior to joining the AG's office, Mr Robert completed a Bachelor of Business at the University of New England, Bachelor of Laws and Graduate Diploma in Legal Practice at the Queensland University of Technology in Australia.
Career-wise, he was working as an admitted lawyer in the Supreme Court of Queensland and was working in the area of Civil Litigation.
Arrived in Seychelles in April this year, he took his oath on Friday last week in the chambers of acting Chief Justice D. Karunakaran.
Born in Australia to Seychellois parents, Mr Robert said he decided to come to accompany his mother to Seychelles when she decided to return to her native land.
"I wanted to help her with the transition of moving back here and when I first started law school it has also been a dream of mine to work in Seychelles one day," he said.
A state counsel's duties include giving advice to ministries and execute cases on behalf of the republic, both civil and criminal.
Mr Robert said apart from giving legal advice to certain ministries so far, he has already got a few cases that are due to be called to court next month in both the civil and criminal courts and also some appeals cases.
"I deal with mostly Supreme Court matters, like drug trafficking, serous criminal offences, serious civil suits worth a lot of money," he said.
In the future he endeavours to complete a Masters in International Comparative Law and a possible PhD in the area, which he believes will benefit Seychelles greatly, especially in the negotiations of foreign contracts.
"When comparing Australian to Seychelles law, I find it very interesting, especially since I want to do my masters degree in international comparative law, which is the comparison of two legal systems and how to create contracts and legal agreements in common ground for both countries," he said.