Jean Ally entertains fans at CD launch
30-June-2012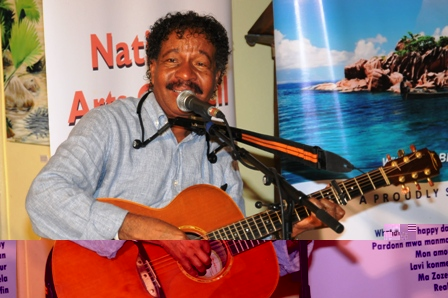 Jean Ally entertaining friends and fans at the launch of his new CD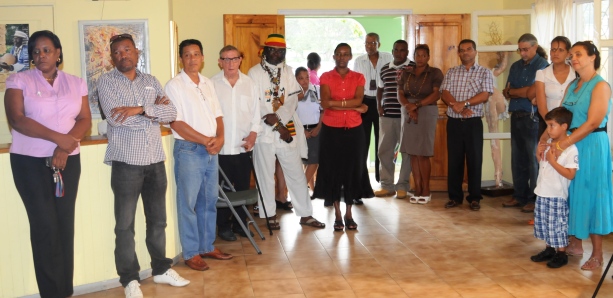 He was accompanied by Alain Bacco and Dave Pool and present for this occasion were other veteran artists like Despilly William and Patrick Victor as well as the Nac's chief executive Jimmy Savy.
Jean Ally also got the chance to share with the audience how he was brought in the industry with the help of Despilly.
He said in those days he knew how to play the guitar but he was not an entertainer. There were also funny stories about his music tours abroad to promote Seychelles such as the one when his acoustic guitar was broken and he had to go around in Singapore to get the same original version.
Jean Ally thanked all his fans and musicians who have supported him all along as well as his friends and family but most of all God for giving him the courage and inspiration.
Mr Savy also had some words of encouragement for Jean Ally and thanked him for promoting Seychelles in hotels and with his albums which have reached many parts of the world.
He said the young artists should also try and follow in the footsteps of the veterans who have an exemplary attitude.
There are altogether 12 songs (both old and new) on the CD such as Ma Zozefin, Pardonn mwan manman and Lavi konmela which were very popular in the early 1990s. The new ones are What a happy day and Ed li.
Among other musicians who backed Jean Ally on the new CD are Cyril Vital, Peter Jules, Tony Julie and Andy Constant.
Sours lanmour is on sale at Kot Do and Ray's Music Room at R150 and only R125 from Jean Ally.
J.L.