Lion's Club gets new president
03-July-2012
The ceremony was attended by Designated Minister Vincent Meriton as well as other ministers, chief justice Fredrick Egonda-Ntende, Leader of the Opposition in the National Assembly David Pierre, principal Secretaries and other high government officials.
Also there was the outgoing president Pravin Darad and the office bearers for 2011-2012.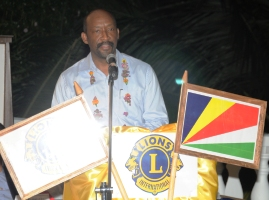 During the ceremony Mr Meriton read out a message to the Lions from President James Michel.
In this message the President thanked the club for its outstanding contributions to the people of Seychelles and the communities.
Then there was a visual presentation of various projects which the LCPS has carried out during the years 2011-2012 such as blood donation, cataract surgeries, diabetic screening and tree
planting.

Minister Meriton addressing guests at the charter night
Mr Pravad thanked his team for supporting him and for their hardwork during the year and
wished the new office bearers all the best.
Then the new office bearers for the year 2012-2013 were introduced: 1st vice-president Marie-France Macgregor, 2nd vice-president Dr Sasikumar Subramanian, 3rd vice-president Molly Green, club secretary Beryl Payet, club treasurer Rakesh Rai and membership director Subramanian Pillay.
Dr Murugaiyan said he will work with his new office members as well as sponsors to carry out new projects for the year.
"The people who have had their vision restored through our cataract eye surgeries, those amputees walking ably with prosthetic feet – provided under our Jaipur foot project and those sheltered from the sun and rain under the bus shelters built through our club with several sponsors, are all standing evidences we have made as a club in helping the people of Seychelles," he said.
He said the LCPS has on his slate a project for putting up an exclusive theatre for eye surgery for the Seychelles Hospital.
The usual projects like internet cafes as well as others in the environment and community are also on our programme, he added.
At the charter night a new club newsletter was also released and copies were presented to guests.
Awards were also presented to dedicated club members and sponsors were honoured.
The night ended with an Indian cuisine buffet where guests got the chance to interact with the club's new office bearers.