Indonesia, Seychelles seek to strengthen ties
11-July-2012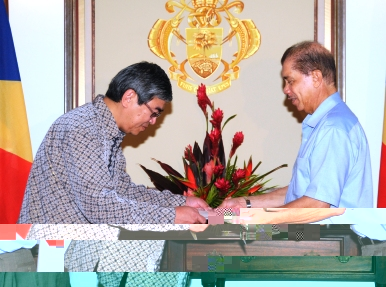 Mr Soemarno was talking to the media soon after presenting his credentials to President James Michel and paying a courtesy call on Vice-President Danny Faure at State House yesterday afternoon.
He said his talks with President Michel and Vice-President Faure has been very fruitful and they have discussed a variety of issues.
"Indonesia and Seychelles are both island developing countries which share many similarities and concerns and our discussions centred on how to find new ways to develop our economic cooperation," Mr Soemarno said.
He said the various areas for further cooperation will be discussed in details during other meetings with the Minister for Foreign Affairs, but noted that issues relating to the ocean and environment as well as the economy will be high on the agenda.
He added that Vice-President Faure started some discussions on the sidelines of the UN Rio+20 summit held in Brazil recently and therefore this is an important opportunity for the two countries to explore further cooperation between them.
Indonesia has a number of its nationals working here notably in the hotel industry.
Mr Soemarno, who is based in Nairobi, Kenya is also his country's ambassador to Mauritius, Kenya and Uganda.
He replaces Budi Bowoleksono who completed his mandate in December 2010.