Seychelles absorbs three times its gas emissions
14-July-2012
This information is contained in the country's report to the June 20-25 Rio de Janeiro United Nations Conference on sustainable development.
Vice-President Danny Faure led Seychelles delegation to the Rio+20 Summit and was accompanied by Environment and Energy Minister, Professor Rolph Payet.
Following are excerpts of the report:

Energy and greenhouse gas emissions
All Seychelles energy needs are met through imported petroleum products, although there is use of solar water heaters at the domestic level. In 1982, Seychelles spent US $11 million in oil imports; in 2010 the energy import bill was close to 60 million USD. Due to growth in consumption and expansion of the tourism industry, the consumption of imported petroleum products increased from 83,164 Toe (Tonne of Oil Equivalent) of fuel in 2000 to more than 155 Toe in 2007. Likewise fuel imports are about 22% of GDP. The transport sector consumes more than 42% of total energy, followed by the domestic/tourism/service sectors consuming about 41% and industry consuming only 17% of total energy.
Assuming an annual average economic growth rate of 7% , consumption of energy will approach 514,460 Toe in 2017 – that is more than five times the amount in 2007.
According to the Seychelles greenhouse gas inventory there was a 34% increase in carbon dioxide emissions between 1995 (194.342 Gg of CO2) and 2000 (260.640 Gg of CO2). A significant proportion can also be attributed to the shift to the increased use of fuel oil for the production of electricity. However, Seychelles sequestered an estimated 821.74 Gg, thus Seychelles is a net sink country, the balance of which has a tradable carbon value of about 10 million Euros.
Seychelles has very few mitigation projects, the most important being the construction of an 18 MW wind energy farm on Mahe with the support of Masdar which will be commissioned in 2013.
Biodiversity and environment vulnerability
Seychelles is recognised as an important biodiversity area of the world, especially for its unique forests and bird species – of which 12 endemic bird species are globally threatened.
Ongoing surveys show there are more than 1,000 species of plant species, five endemic bat species, seven endemic caecilians, five endemic frog species, two endemic freshwater fish, two sub-species of terrapins with more than 20 lizards of which 14 species and subspecies are endemic. The arthropods are equally diverse represented by a diversity of insects, scorpions, spiders and fruit flies, many of which are endemic. The marine environment which extends over 1.4 million square kilometres has over 1,000 described species of fish of which 400 are confined to reef environment, 55 species of sea anemones, 300 species of scleractinian corals, 150 species of echinoderms and 350 species of sponges. Forest cover is estimated at 40,600 hectares or 90% of the total land area.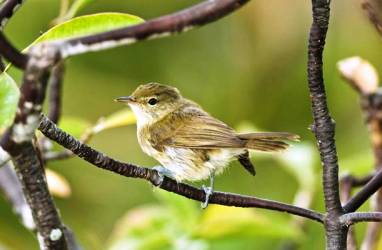 Seychelles became the first country in the western Indian Ocean region to designate marine protected areas and today more than 47% (212 square kilometres) of its land territory is under legal protection. Two of the United Nations Educational and Cultural Organisation world heritage sites are also found in Seychelles. Under a new plan to designate protected areas on the country's outer islands, the proportion of Seychelles territory under protective status will exceed 50%. Other areas protected are shell reserves, areas of outstanding beauty and landscape as well as zones of no development. Conservation action is implemented by government, non-governmental organisations and the private sector. Significant resources from Seychelles, the Global Environment Facility (GEF), the European Union (EU) and others are used to support the protection of those designated areas. Seychelles is one of few countries with the highest levels of success in removing endangered species from the red data list and for the eradication/restoration of degraded ecosystems.
However, the biodiversity and natural environment in Seychelles are threatened by direct human impacts and global impacts induced by humans – such as climate change and biological invasions.
The major impacts include land use change as a result of development, pollution, biological invasions, forest fires, commercial overexploitation of certain species like fish, and climate change.
Seychelles also experienced significant coral bleaching in 1998 due to the strongest El Nino ever recorded at that time. Coral mortalities were over 90% in Seychelles down to a depth of 20 metres. Repeated bleaching has occurred subsequently with a significant impact on inshore subsistence fisheries and the diving industry. The migration of fish stocks as a result of extreme changes in ocean temperature may also significantly affect the tuna fishing industry.
Extended droughts in the last 10 years have also caused stress in tortoise and bird populations. Coastal erosion as a result of sea level rise and extreme weather threatens nesting grounds for turtles and coastal infrastructure on the islands.
Sustainable development planning
Seychelles embarked on its first environment management plan in 1989 designed by the government of Seychelles with the support of United Nations Development Programme, United Nations Environment Programme (Unep) and the World Bank. The Environment Management Plan of Seychelles (EMPS) 1990-2000, raised pledges of over US $40 million and after a decade of implementation was deemed a successful programme. Key successes were the expansion of the department of environment, training of environment professionals, enactment of a modern Environment Protection Act, introduction of Environmental Impact Assessment, implementation of national effluent quality standards, the elimination of the turtle shell industry and construction of the Greater Victoria sewerage system.
The success of the EMPS 1990-2000, prompted government to embark on the preparation of a second generation action plan, aptly called the EMPS 2000-2010. With the support of the World Bank, the EMPS 2000-2010 was prepared through a national multistakeholder consultation process and national expert input. The EMPS 2000-2010 was also further closely aligned to environment and sustainability principles emerging following the UNCED Rio Summit held in 1992.
EMPS 2000-2010 therefore also incorporated major global environmental issues such as climate change and biodiversity loss. Although the EMPS 2000-2010 was successfully implemented, efforts at improved monitoring and evaluation of the benefits were limited. In 2009 a review of the EMPS 2000-2010 was done in 2009 by the government of Seychelles with the support of Unep and the Indian Ocean Commission (COI) Regional Programme for the Sustainable Management of Coastal Zones of the countries of the Indian Ocean (ReCoMaP).
The review was published in October 2009 as the Report on the Review of the Environment Management Plan for Seychelles (EMPS) 2000-2010. This report contained a number of recommendations which served as guidance in the preparation of the next environment management plan.
The EMPS 2001-2010 proposed an institutional framework for its implementation which focused on a coordinating agency nested within the ministry responsible for the environment. Guidance for the operation of this agency emanated from a broad-based steering committee under the joint chairmanship of the principal secretary responsible for environment and the foreign affairs counterpart. The Steering committee comprised of representatives of government, the civil society and the private sector. The EMPS 2001-2010 was supported by a unit created within the ministry responsible for the environment.
The EMPS has subsequently been transformed into the Seychelles Sustainable Development Plan (SSDS) 2012-2020. The SSDS 2012-2020 provided for a more comprehensive and integrated approach to sustainable development in Seychelles with equal focus being given to the economic and social dimensions of sustainable development.
Energy and renewables
As Seychelles consumption of fossil fuels continues to increase, deliberate efforts by government to shift the economy towards renewable energy has been hampered by the lack of modern legislation. With the support of the European Union, the Energy Act will be passed by the National Assembly in 2012. The new act makes provisions for incentives in the renewable energy sector as well as the liberalisation of the energy sector to allow different power producers to operate.
As part of the Energy Policy of Seychelles (2010-2030) the objective is to achieve 100% reliance on renewable energy in the long-term. This would require significant investments in all forms of renewable energy, but primarily in wind, solar, waste-to-energy and biofuels. Seychelles is already constructing a 6 MW wind farm on Mahe with financing from the Abu Dhabi Fund for Development, which is expected to meet 3% of the national demand for electricity by the end of 2012.
Through funding from the EU, Seychelles will implement a US $1 million project to equip homes with solar water heaters. To improve use of the national grid for distributed power generation, investment in smart grids is being planned, including the continuous upgrading of the existing Mahe power grid to 33 kV. Piloting of electric and hybrid cars is ongoing in Seychelles, and there are already proposals to convert the existing fleet on La Digue to electric vehicles.
Through an MoU between the University of Seychelles and TERI University in India, a course in renewable energy will be offered in Seychelles to train middle managers in areas of energy management and planning for investments in renewable energy technologies.
Despite these efforts, implementation of renewable energy is constrained by lack of financial incentives for investment in green power, as well as lack of start-up capital to acquire such technologies.
Rio+20 will have two major themes, one of which is "a green economy in the context of sustainable development and poverty eradication…" . While debate on the issue has been encouraged by the UN in discussions leading up to the Rio+20 summits, many countries remain divided on what it actually means and how it will be implemented.

Defining the Green Economy
It is argued that the concept of the green economy came about as a result of the inadequacy of current economic models and approaches to address global economic crises and environmental challenges, in particular the effects of climate change. Some view the concept of the "green economy" as an attempt to replace the concept of sustainable development, while others see the "green economy" as one of the basic tenets of sustainable development – that of an economy which takes into consideration the environmental costs and benefits as well as the transition to a low carbon and sustainable energy economy. Some countries have extended the concept to include green jobs, green technologies and green practices.

However, the concept of the "green economy" has also created concerns among small island developing countries, and other developing countries, during various regional Rio+20 preparatory meetings. Some of the concerns include whether use of the term could potentially be used to justify the imposition of trade conditionalities on the basis of environmental standards as well as protectionist measures to insulate countries' own green industries – effectively further marginalising the world's poor and vulnerable.
Irrespective of the various views and emerging blocs, the concept has generated much debate on how the world's economies and indeed national economies can be transformed to address persistent challenges such as climate change, biodiversity loss and abject poverty.
For small island states, the pursuit of sustainable development which emerged from the Barbados Plan of Action in 1992, the concept of the "green economy" presents a fresh opportunity to address the vulnerability of small economies, subject to food security, energy security and vulnerability issues much more pronounced than larger states. Small island states are also important biodiversity areas and as maritime nations have jurisdiction over large areas of oceans, prompting many island leaders to refer to their economies as being transformed into 'blue economies'.
On its part the UN and other global agencies have undertaken various studies on the issue of the green economy. Unep and the World Resources Institute (WRI) have defined the green economy as follows:
Unep – "one that results in improved human well-being and social equity, while significantly reducing environmental risks and ecological scarcities. In its simplest expression, a green economy can be thought of as one which is low carbon, resource efficient and socially inclusive."

WRI – "as an alternative vision for growth and development; one that can generate growth and improvements in people's lives in ways consistent with sustainable development. A Green Economy promotes a triple bottom line: sustaining and advancing economic, environmental and social well-being."
Both these definitions have their origins from the concept of sustainable development and indeed focus on the three dimensions. In practical terms these concepts will need to be linked to national, regional and global economic policies and regimes. It has implications for trade, alleviation of poverty, management of the world's resources as it implies that it is simply not a "greening of the economy" but an alternative path.
In 2011, UNEP commissioned a study on 'Green Economy in SIDS – An Analysis of Challenges and Opportunities. The UNEP report is still in draft form but as suggested by the report, four main sectors important to SIDS are evaluated within the context of Seychelles - fisheries, energy, water, waste and tourism.

Green economy within the context of Seychelles
There are several opportunities for transforming Seychelles into one which is green. These are elaborated in the various national strategies and plans, such as the Seychelles Sustainable Development Strategy (SSDS) 2012-2020 and the Seychelles Sustainable Tourism Masterplan 2012-2020. Both documents have been developed through an extensive stakeholder consultation process and incorporate a number of the features called for in a green economy.
For example, the development of renewable energy, the mainstreaming of sustainability in the decision-making process and innovations in the tourism sector are all areas for potential development of the green economy.
Seychelles has embarked on an ambitious plan to transform its economy, which is currently based upon 100 percent of fossil fuels. The energy strategy is to create wind farms, solar farms and financial incentives to use those technologies at the domestic level.
The fishing sector has been badly hurt by the persistent occurrence of acts of piracy in the region. An international effort to make the waters safe continues.