14th IAAF World Junior Athletics Championships-Labiche's silver medal a premier for Seychelles
17-July-2012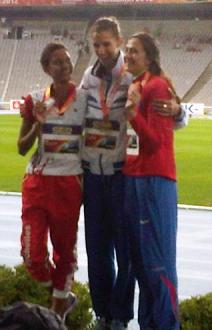 Although Koste Seselwa did not ring across the Montjuic Olympic Stadium in Barcelona, Spain on Sunday, Labiche did Seychelles proud with a silver medal in the women's high jump final of the 14th International Association of Athletics Federations (IAAF) World Junior Athletics Championships after clearing the bar at 1.88m – a new Seychelles junior and senior record.
"This is the biggest achievement in my life and I'm proud of myself," Labiche told Sports Nation in a telephone conversation yesterday.
"I'm so happy I won the silver medal at the World Junior Athletics Championships. All hard work pays off. I told you after my triumph at the African Senior Athletics Championships that I wanted to win a medal in Barcelona and I did it even though the competition was really tough," added Labiche, who is expected back home this morning.
Labiche was seen as a surprise guest in Sunday's high jump final showdown which was originally billed a clash between Russia's European junior champion Mariya Kuchina and Italian world leader Alessia Trost who won the gold medal with a height of 1.91m.
With a bar of 1.88m, Russian Kuchina finished third on count-back behind Lissa Labiche and Germany's Alexandra Plaza was ranked fourth after attaining the same height.
After achieving the feat of becoming the first Seychellois to qualify for a final of any track and field world championship in the qualifiers on Friday with a bar of 1.84m, Labiche proved to be a surprising opponent in Sunday's final, getting a national junior and senior record of 1.88m with first time clearances at every height until she reached 1.91m which proved to be a height too far for her.
Gold medallist Trost told the IAAF website she did not know anything about Lissa going into the championships.
"I didn't know anything about her (Labiche) and when she cleared 1.88m on her first attempt by a big way, I thought she was going to go higher."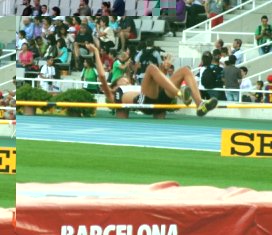 Labiche's silver medal has helped Seychelles finish joint-29th with eight other countries – Argentina, Croatia, Denmark, Eritrea, Guyana, Lithuania, Switzerland and Turkey – in the final medals table dominated by the United States of America with 20 medals – 9 gold, 4 silver and 7 bronze.
Kenya finished second with 13 medals – 4 gold, 4 silver and 5 bronze, Ethiopia third with 7 medals – 3 gold, 3 silver and 1 bronze, Cuba fourth with 4 medals – 3 gold and 1 bronze, and Germany fifth with 6 medals – 2 gold and 4 silver.
Trost's gold medal propelled Italy to joint-14th with Belarus, Trinidad & Tobago and Colombia. A total of 40 countries won medals in Barcelona.
Although Trost said she knew nothing about Labiche before Sunday's final showdown, the two had met before, at the 2009 IAAF World Youth Championships in Bressanone, Italy. While the Italian clinched the gold medal, Labiche crashed out in the qualifying rounds.
Coached by Cuban Carlos Vizcaino Sanchez, Labiche has all it takes to be a great female high jumper and she has been proving to all that she has the fire in her belly each time she competes.
Only last month (June 29), she won the gold medal with a bar of 1.86m – a then Seychelles record – at the 18th African Senior Athletics Championships in Porto-Novo, Benin. The height of 1.86m was 1cm higher than the previous record of 1.85m she set during the National Championship at Stad Popiler on Saturday June 9, 2012.
The 19-year-old now has her sight on the forthcoming XXX Olympic Games in London where she will be competing after receiving an invitation from the IAAF.