Seychelles Port Authority (SPA)
18-July-2012
The SPA recognised that to achieve this, they would have to begin by evaluating their strengths and bring to the forefront the weaknesses as a port. It was apparent that the main strength lay in an all-Seychellois team who clearly understood the SPA mission, and had the willingness to work to bring about much needed change within the port which is after all, the gateway to the Seychelles economy.
Under a sister-ship agreement with the Grand Port Autonome de Marseille, SPA got assistance from port experts and dedicated the first few years to planning and setting the solid foundation of the authority upon which is based the development plans. Human resources development had an important role in this plan.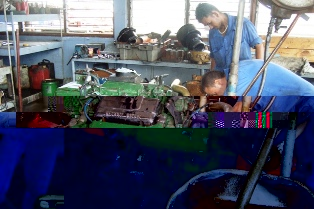 Today SPA is the proud "owner" of a port which despite some strategic challenges and infrastructural limitations, offer high level port services to all our stakeholders and is recognised as a reputable Port within the region. This has come about as a result of strategic planning and investing in its people by developing skills within the organisation, which has enabled it to run an efficient port service on a 24- hour basis. In 2010, SPA received the best regional cruise port award.
With regards to its human resources, SPA has a clear strategy that adopts an approach which seeks to gain competitive advantage through the strategic development of a highly committed and capable workforce.
SPA's strategic aim is to:
• Place our human resources at the top
• Give continuous support to its managers
• Involve its Board of directors and stakeholders so that they also get committed and engage in its development.
SPA recognises the importance of a well motivated and highly skilled workforce. A comprehensive training and development policy was introduced in 2010 to ensure that all staff are provided with opportunities for development which will help them to achieve excellence in their role and meet the challenges of the future.
Staff are encouraged to take responsibilities of their own development. SPA releases staff on full salary to attend local and overseas training. Upon completion of relevant training staff are monitored closely, and based on performance are either promoted to higher level posts or receive salary increments.
SPA also funds local and overseas training for staff in technical fields. Recently SPA invested in specialised training in Turkey for its electrical and mechanical staff. SPA also invested in specialised security training in Marseille, France and has now two certified Port Facility Security Officers in compliance with IMO regulations. Technical staff are also trained in Singapore and Le Havre, through SPA funded courses and some scholarships awarded by the respective governments, obtained through the Ministry of Foreign Affairs.
SPA management team has given its commitment that it will continuously review its policies to bring about a more conducive work environment for all, while they continue to work hard to turn SPA into a high performing organisation and contribute towards the economy of our country.