Lots drawn for position of candidates on ballot card and campaign broadcasts-Anse Aux Pins by-election
19-July-2012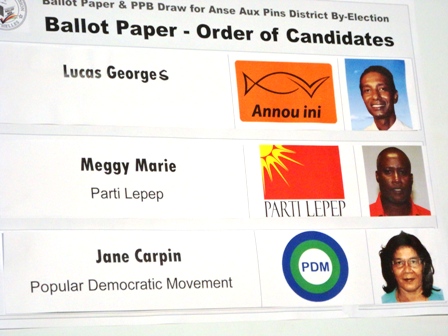 The candidates -- Meggy Marie for Parti Lepep, Jane Carpin for the Popular Democratic Movement (PDM) and independent Lucas Georges -- also took part in drawing lots to determine their position on the ballot paper.
Lucas Georges will be on top, followed by Meggy Marie and Jane Carpin.
The photos and names of the three candidates will appear alongside their party colours and symbols.
Lots were also drawn for political broadcasts by the candidates themselves.
These have been set to commence on July 23 for the opening programmes by the political parties. Parti Lepep will the first to present its 13-minute programme , followed by PDM.
The second programme will be on July 25, when Parti Lepep's broadcast will again be aired first, followed by PDM and the independent candidate. Each programme on that day will be of 10 minutes duration.
For the party closing programme – 13 minutes -- scheduled for July 27, PDM 's broadcast will be aired first, followed by Parti Lepep.
The broadcasts will be aired at 9pm on television and 7.30pm on radio, to be repeated at 8am on both AM and FM radio the following morning.
The SBC's marketing manager, Cindy Wirtz, who was present at the meeting, said five spots of 30 seconds each on television, AM and FM radio will also be allowed to each candidate during the campaign period, which runs until August 4.

Candidates may, if they wish, also buy air time for a maximun of 5 extra spots on each of the broadcasting media, but may not have more than two on each on the same media any day. Ms Wirtz said that all candidates may have one political activity covered for 3 minutes as an SBC news item.
Different rates have been set by SBC depending on whether the parties or candidates produce their own programmes and spots or whether they are made by the corporation on their behalf.
Ms Wirtz also said that the corporation will require all programmes to be submitted 24 hours before scheduled broadcasting time to the SBC which reserves the right to vet programmes and bring to the attention of the candidates anything which it finds objectionable.
Electoral Commission chairman Hendrick Gappy has appealed for a calm and peaceful campaign.