Baldwin wins 20-24 age group, finishes third overall-Evergreen Sprint Triathlon
19-July-2012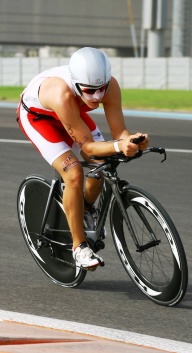 He was also ranked third overall out of over 200 competitors in his first event since arriving in Colorado three weeks ago.
Baldwin's times were: 750m swimming – 10 minutes 33 seconds (transition 1 minute 00.39 seconds), 12-mile biking – 35 minutes 14 seconds (transition 2 minutes 00.39 seconds), and 3-mile running – 19 minutes 17 seconds for an overall time of 1 hour 6 minutes 20 seconds.
Although the Evergreen Sprint Triathlon is a small local race held just outside of Denver, Baldwin said he wanted to compete over a short distance that is very much the opposite of what he specialises in.
The local triathlete, who will obtain his professional licence to race in the elite category next season, has been training at altitude in Boulder, Colorado, USA for the last three weeks and this result shows that things are on track.
He is currently training around 25 hours per week and will soon ramp up towards 35 hours in the final build-up for the Ironman 70.3 World Championships on September 9 in Las Vegas and the Ironman World Championships on October 13 in Hawaii.

Baldwin qualified for the Ironman 70.3 World Championships after winning the 20-24 age group and finishing 21st overall with a cumulative time of 4h51:53 at last month's Ironman 70.3 (1.9km swimming, 90km biking and 21.1km running) in Wimbleball, Exmoor, Great Britain.
He booked his place at the Ironman World Championships during last year's Ironman Western Australia in Busselton, in the south of Perth.
G. G.