Second sports management course launched
20-July-2012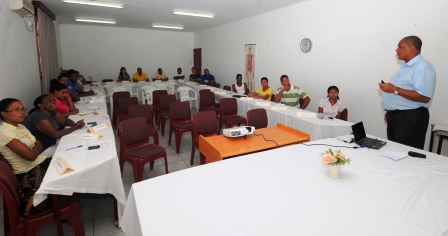 The ceremony was attended by Seychelles Olympic and Commonwealth Games Association (Socga) president Antonio Gopal, its secretary general Alain Alcindor, course director Bernard Denis, course lecturers and around 18 course delegates.
Mr Denis said the aim of the course is to get the delegates to develop managerial skills, learn to bring about change and ultimately manage their organisations more effectively.
Conducted over an eight-month period, the course consists of six modules including organising an Olympic sports organisation, managing strategically, managing human resources, finance, marketing as well as organising a major sporting event.
All delegates will have to develop and present case studies and share their experience.
Upon completion of the course, the delegates will receive an advanced professional certificate in management of Olympic organisation.
The advanced sports management course offers those who take part the opportunity to reach the diploma in sports management – a standard between the Masters degree (Memos) and certificate in sports management offered by the International Olympic Committee and supervised by the Olympic Solidarity.
Mr Denis said only three out of 25 delegates completed the last course and hopes more students will take it seriously this time round. The three delegates who were successful and graduate this year are Monique Athanase, Gretel Nenesse and Philip Albert.
The course was launched by Socga president Gopal in April 2010 with the aim of getting sports administrators to acquire much-needed experience.
R. B.