XXX Olympic Games in London – July 27 to August 12-President hands over country's colours to flag bearer Dugasse
21-July-2012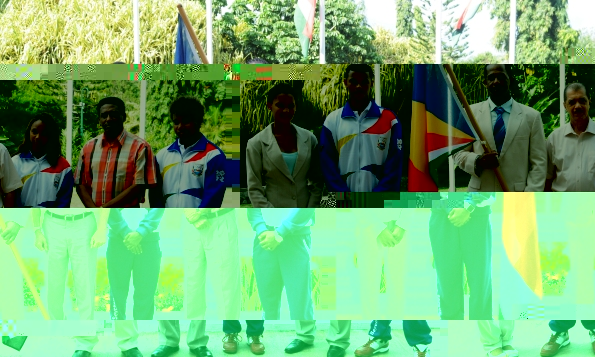 The first Seychellois athlete to qualify for this year's XXX Olympiad in London from July 27 to August 12, Praslinois Dugasse was dressed in his suit he will wear when he carries the Seychelles flag during the parade of nations at the opening ceremony on Friday July 27.
Vice-President Danny Faure, Designated Minister Vincent Meriton, who is also the Minister for Social Affairs, Community Development and Sports, community development and sports principal secretary Denis Rose, Seychelles Olympic and Commonwealth Games Association (Socga) president Antonio Gopal, National Sports Council chief executive Alain Volcère, and Socga secretary general Alain Alcindor were present at the ceremony.
After receiving a kit containing the official tracksuits and other attire members of Team Seychelles will be wearing at the Games from Lissa Labiche, Mr Michel said the Seychelles government will be paying out R250,000 for a gold medal, R200,000 for a silver and R150,000 for a bronze to Seychellois athletes who happen to finish among the medallists in London.