President Michel congratulates Lissa Labiche
21-July-2012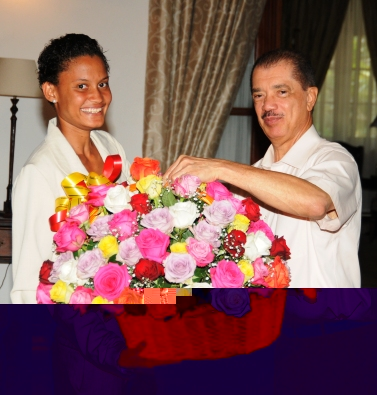 President Michel met Labiche yesterday afternoon at State House when he received five of the six athletes who will be representing Seychelles at the forthcoming XXX Olympic Games to be held in London, England from July 27 to August 12.
Vice-President Danny Faure, Designated Minister Vincent Meriton, who is also the minister for Social Affairs, Community Development and Sports, community development and sports principal secretary Denis Rose, Seychelles Olympic and Commonwealth Games Association (Socga) president Antonio Gopal, National Sports Council chief executive Alain Volcère, and Socga secretary general Alain Alcindor were also present at the short ceremony.
Labiche, 19, won the women's high jump silver medal at the 14th International Association of Athletics Federations (IAAF) World Junior Athletics Championships. She cleared a height of 1.88m – a new Seychelles record – on the sixth and final day of the championships inside the Montjuic Olympic Stadium in Barcelona, Spain on Sunday July 15 to write a new chapter in the history of Seychelles' track & field athletics.
Invited by the IAAF to compete at the Olympics, Labiche was crowned women's high jump champion of the 18th African Senior Athletics Championships, held in Porto-Novo, Benin after clearing the bar at 1.86m – a then Seychelles record – at the Charles de Gaulle stadium on June 30.
Labiche now has in sight a new Seychelles record of 1.92m as her next target.
G. G.