High number of Seychellois marine engineers graduate
23-July-2012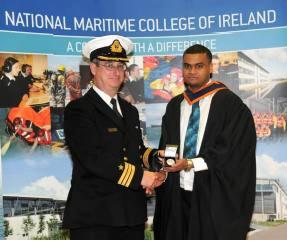 The National Maritime College of Ireland (NMCI) last month awarded Bachelor of Science degrees to graduates of its 2012 class, among whom the nine Seychellois cadets.
The ceremony, which took place on June 19, 2012 at the NMCI, was attended by family members, college staff as well as representatives of the Seychelles Petroleum Company (Sepec) including chief executive Conrad Benoiton and crewing manager Alain Asba.
The graduates are Savio Dupres, Ian Edmond, Dominique Furneau, Fabien Marguerite, Michael Octobre, Kenny Raoul, Martin Roucou, Christopher Renaud and Michael Francoise. One of them, Martin Roucou, was commended for being the best marine engineering graduate of the year awarded by Commander Michael Malone of the Irish Naval Service and Branch Chairman of the Cork Branch of the IMarEst.
The graduates received their Bachelor's Degree following a study period of three years which encompassed various subjects inclusive of applied thermodynamics, electrical automation systems, naval architects, marine control engineering, marine electrical power, marine electronics, marine engineering practice and mechanical technology among many others which now qualify them to work in the shipping sector or as marine and plant engineers.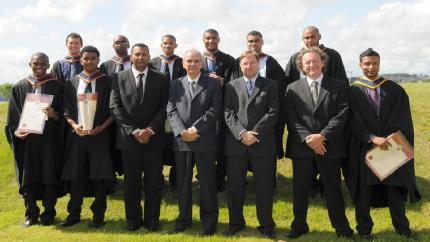 Their studies have been fully sponsored by Sepec under its regular training programme which aims at building capacity for its shipping arm which ropes in its five tankers spanning international waters.
With the current shortage of Seychellois engineers and personnel on its tanker fleet, Sepec is keen to maximise the employment of capable Seychellois and help to provide a steady stream of marine personnel onto its tankers, all in line with the government's goal of building up human resource capacity and investing in the development of its people.
With 114 Seychellois crew members listed currently Sepec is almost half way to localising the available posts to manning its full tanker fleet, something which is being targeted by 2020.
At present, Sepec is financing the studies of 118 other students in University of Tasmania, Unicorn College in Durban, NMCI and South Tyneside College in UK, all expected to graduate -- from deck cadets, engine cadets to officers -- over the next three to four years.