Mont Fleuri secondary says 'no to bullying'
23-July-2012
The launch took place at the school recently in a special assembly which saw the presence of the school council's chairperson Ogilvy Delcy and ministry officials.
Launching the campaign, the school's head Rosemary Violette said bullying is not a normal or socially acceptable behaviour.
People are not born bullies so this behaviour can be changed, she said.
Mrs Violette said as part of the campaign, students can now write down their complaints and drop it in a 'complaint box', as there are many of them who are afraid to come forward to report on these incidents.
During the special assembly, students performed a short sketch to show the causes and consequences of bullying.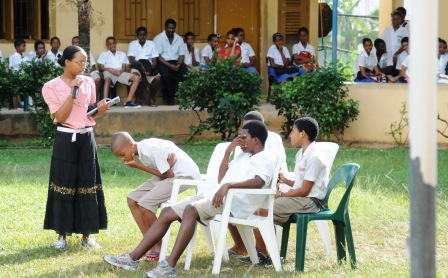 The consequences of bullying were further stressed through a short presentation given by a police officer.
To conclude the ceremony, the anti-bullying banner was unveiled by Mrs Violette and Mr Delcy.
In an interview, the school's deputy head Marc Arissol said the initiative to launch the campaign came after the school management saw an increase in the number of cases relating to bullying.
He added that compared to other cases such as classroom disturbances, bullying has been seen as alarming.
Mr Arissol said the campaign to help eliminate bullying at Mont Fleuri secondary forms part of the school's development plan.
"The main aim of this campaign is to bring more awareness on bullying," he said.
He added that various competitions and other activities will be organised throughout the campaign.