UniSey staff and students take part in maritime projects
24-July-2012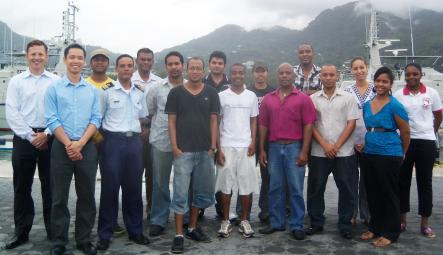 The workshops, held at the Coast Guard headquarters on Perseverance, were conducted by Robert Weaver and Sparta Cheung, engineers from the American Space and Naval Warfare Systems Command.
The purpose of the workshops was to continue to develop tools to process available maritime data in order to enhance Seychelles' maritime domain awareness.

Currently both Mauritius and Seychelles face a number of maritime threats, specifically the attacks on fishing vessels and commercial vessels by pirates.

The workshops enhanced the appreciation and understanding of MDA by local authorities in Seychelles through the use of advanced satellite resources.
Six lecturers - including UniSey's ICT centre director Christian Servina along with eight students studying for a BSc in Computing and Information Systems – took part in the workshops, which they described as very interesting and informative.

One of the principal lecturers in attendance, Mr. Bandara, explained that the programme enriched the students' experience of practical computing applications, enabling them to put complex theory into practice.

Students also gained access to cutting edge technology which will serve them in good stead in their future study and employment.
Participants were set key tasks in line with the programme content and also visited the new Coast Guard headquarters and its facilities under the supervision of Major Jean Attala.