'Focus on what you want to achieve and it's all plain sailing from there'-Up-Close … with national high jump record holder Lissa Labiche
24-July-2012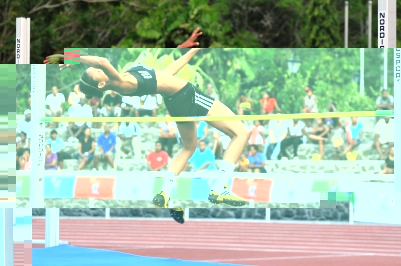 She flashed me a brilliant smile before nodding and following me downstairs to the interview area.
She looked like she had done this a million times and I had no doubt this was the case as she leaned back, clasped her hands and squinted at me – waiting for the questions no doubt.
Lissa didn't need much prompting and we were off to a flying start – so to speak.
Born February 18, 1993, Lissa explained how she got into sports – namely high jump – and the sacrifices, love and devotion that keep her hanging on.
"I've always loved sports," said a smiling Lissa as we settled down for the interview.
"I was in basketball before and have tried out almost everything sports wise."
Lissa said since expanding her high jump career, less time is devoted to random frolicking and lazing about.
"I have to train really hard now, especially with the upcoming Olympic Games so I don't really have a spare time as such," she said shrugging her broad shoulders.

She wasn't too big on talking about herself but her eyes lit up whenever the questions reverted back to sports.
"I'm really interested in it and have been my whole life.
In fact it's been a dream of mine to major in sports therapy but we'll see how that goes.
Either way I think I'll be sticking to sports my whole life," she said laughing.
Dedication to the cause
"Waking up every morning to train is a matter of devotion, I think. You just have to set your mind on what you want to achieve and it's all plain sailing from there – providing you are dedicated and actually want to get to where you are going."
Travelling for Lissa became a constant since her 2008 CJSOI (Commission de la Jeunesse et des Sports de l'Océan Indien) record-breaking jump on home soil with a bar of 1.79m for a then youth, junior and senior women's Seychelles record.
"Since then I've been to different countries to compete including Spain, Italy, France, South Africa and Reunion to name a few.
Upcoming Olympics
"I'm not – as many might think – under any extreme pressure to perform for the Olympics. I'm on a mission basically and I know what I have to do," she laughed.
"No, but seriously, of course when the jump is right under your feet so to speak, I suppose I will inevitably feel a little freaked out but for now I feel good and I'm going all out to reach the finals hopefully."
Lissa said training at the moment is not as intense as she has recently returned from the 14th IAAF World Junior Athletics Championships in Barcelona, Spain, where she won the women's high jump silver medal – a first for Seychelles at youth, junior and senior levels in world athletics championships.
"I'm still in compete mode but I know when I get to the UK, training will be upped to the maximum, that's for sure".
Inspiration
"My major inspiration I would say would have to be Croatian Blanka Vlašić. Even before I started taking part in high jump I used to enjoy watching her in her element," she said, crossing her arms in a relaxed fashion.
"Since we're talking about inspiration now and role models I want to just say to the youth right now – come and join the athletics team. It's fun, there are many travel opportunities if you push hard enough and as a bonus it keeps you off the streets," she added, looking serious.
On meeting the President
"Honestly, he is a great supporter of Seychelles sports," she smiled. "He asked me to keep our flag flying high and offered a lot of words of encouragement so – thank you".
Credentials
Only 19 years old, Lissa recently won the women's high jump silver medal of the 14th International Association of Athletics Federation (IAAF) World Junior Athletics Championships – held in Barcelona, Spain in July – after clearing a height of 1.88m.
Prior to that, she was crowned women's high jump champion of the 18th African Senior Athletics Championships held in Porto Novo, Benin with a height of 1.86m in June.

Lissa lives with her mum, little sister and grandmother at Forêt Noire and has four siblings and a devoted boyfriend – also an athlete – who encourages her to always push further.

She is Seychelles' first world medallist in athletics and now has her sights set on a national record of 1.92m at the forthcoming XXX Olympics which will begin this week in London.
Seychelles Nation takes this opportunity to wish Lissa and all other Seychelles athletes luck at the forthcoming XXX Olympics. Ale Sesel!
By Rebecca Belle
Captions: