R50,000 sponsorship for young Olympians-XXX Olympic Games in London – July 27 to August 12
24-July-2012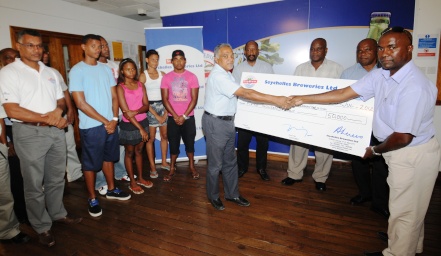 SBL managing director Aubrey Lucas presented a cheque for R50,000 to Seychelles Olympic and Commonwealth Games Association (Socga) secretary general Alain Alcindor in the presence of Designated Minister Vincent Meriton, who is also the Minister for Social Affairs, Community Development and Sports, community development and sports principal secretary Denis Rose, Socga president Antonio Gopal, National Sports Council chief executive Alain Volcère, the athletes and some SBL staff.
The ceremony took place at the SBL headquarters Monday afternoon.
The six athletes – judoka Dominic Dugasse, 200m male sprinter Jean-Yves Esparon, female high jumper Lissa Labiche, female 200m freestyler Aurelie Fanchette, male 100m freestyler Shane Mangroo and boxer Andrique Allisop – each got R5,000 amounting to R30,000.
Speaking at the short ceremony, Mr Lucas said SBL, a company that places a lot of emphasis on high level performance, is happy to be associated with young Seychellois who work hard and achieve big.
"Although this is a small token, I think it will go a long way to show that SBL cares about the young people of Seychelles," said Mr Lucas.
On Socga's behalf, Mr Alcindor said the "money will surely boost the athletes' moral after they have made a lot of sacrifices to earn the right to represent Seychelles in London".
Mr Lucas added that the remaining R20,000 will go to Labiche who have registered some good results late in two international events.
"We at SBL welcome high performances and this is why we have made this special donation to Lissa," said Mr Lucas.
Labiche, who received a token of appreciation and a basket of flowers from President James Michel during last Friday's official Seychelles flag hand-over ceremony at State House, won the women's high jump silver medal at the 14th International Association of Athletics Federations (IAAF) World Junior Athletics Championships.
She cleared a height of 1.88m – a new Seychelles record – on the sixth and final day of the championships inside the Montjuic Olympic Stadium in Barcelona, Spain on Sunday July 15 to write a new chapter in the history of Seychelles' track & field athletics.
The 19-year-old was crowned women's high jump champion of the 18th African Senior Athletics Championships, held in Porto-Novo, Benin after clearing the bar at 1.86m – a then Seychelles record – at the Charles de Gaulle stadium on June 30.
Seychelles delegation leaves today
The Seychelles delegation for the London Games (from July 27 to August 12) leaves this morning onboard a regular Emirates Airline flight and will reach the Heathrow Airport tonight after a three-hour stop-over in Dubai.
Minister Meriton, PS Rose, NSC chief executive Volcère, Socga president Gopal, Socga secretary general Alcindor, Seychelles Nation sports journalist Roland Duval, chef de mission Mary Banane, coaches Carlos Sanchez, Giovanni Fanny (athletics), Gerry Legras (boxing), Christian Velici (judo), Priscilla Kinloch and Barnsley Albert (swimming) are also part of the delegation.
Although all six Seychellois athletes on the Seychelles delegation will be making their debut at the biggest multi-sports competition, only judoka Dugasse and boxer Allisop have qualified for the four-yearly Games.
Praslin judoka Dugasse was the first Seychellois athlete to qualify for this year's Olympics through continental (African Judo Union) quota after amassing 30 points in the -100kg category.
Gold medallist at last year's Indian Ocean Island Games on home soil with a win over Mauritian 2008 Olympic bronze medallist Bruno Julie, boxer Allisop edged out Kenyan Denis Okoth in the quarterfinal at the African Olympic qualification tournament in Casablanca, Morocco earlier this year to earn his ticket to the Olympics.
He narrowly won the light weight bout 19-18 against Okoth before losing his semifinal fight on points – 8-16 – to Tunisian Ahmed Mejri to earn a bronze medal.
Allisop is in Cardiff, Wales following an intensive training programme ahead of competing at the Games.
Female high jumper Labiche has been invited by the IAAF based on her performance at the recent 18th African Senior Athletics Championships.

Sprinter Esparon was chosen by the Seychelles Athletics Federation (SAF) to compete in London after no local male athlete qualified for the Games or received IAAF invitation.
On form Esparon beat Christopher Laurencine's national junior 200m record with a new time of 21.75 seconds to be ranked 27th out of 50 competitors at the 18th African Senior Athletics Championships, held in Porto-Novo, Benin.
Laurencine's old mark of 21.95 seconds had been standing since August 18, 2007.
Swimmers Fanchette and Mangroo have been invited for the Games by the Fédération internationale de natation (Fina). While the former will swim the 200m freestyle, the latter will be involved in the 100m freestyle.
G. G.