Madagascar talks run into the night
26-July-2012
Mr Zuma – who is the chairman of the Southern African Development Community Organ Troika on Politics – arrived earlier yesterday and was met at the airport by Mr Michel who is hosting current leader Andry Rajoelina and former President Marc Ravalomanana on the resort island of Desroches.
The South African and Seychellois presidents flew to the Desroches SADC and Indian Ocean Commission-led efforts to resolve the political issues of Madagascar.
Seychelles is the current chair of the IOC.
Mr Zuma left around 9pm last night but the Madagascar politicians were still on Desroches where they were believed to continue their discussions.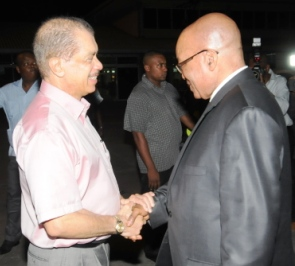 The SADC and Seychelles government are today expected to shed light on the outcome of the talks.