Veteran stars enthral fans in super-show
28-July-2012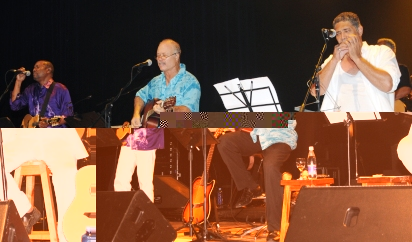 The show, which went on for a little more than two hours, kicked off with all time favourites such as Esper sa sanson, Dir mwan en parol, Sant avek mwan from David Andre. He also gave the audience a taste of what to expect on his soon to be released new album.
After captivating and inspiring the audience with his powerful tunes, David was met on stage by his two star musician friends -- Joe Samy and Patrick Victor.
Joe and Patrick later performed popular classics from their previous albums.
The show served as a prelude to an Arts Festival to be held next month with the aim of giving more visibility to the arts.
Jimmy Savy, chief executive of the National Arts Council, who was there to support the artists and ensure that all goes well, said the profits made from the show will be used to organise another event during the upcoming Arts Festival.
Mr Savy described the show as one of good quality and added that the team was happy with the turn-out.
M.B.