Council reviews standing orders for youth assembly
31-July-2012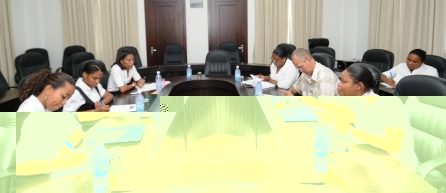 The Standing Orders guide both the national and youth assemblies on their functions and contains all its rules and regulations.
The SNYC chief executive Vicky Van Der Westhuizen, accompanied by her director of Programmes Patrick Nicette and coordinator for the youth assembly Jeanetta Ali, met the National Assembly clerk Alzarel Ernesta and other officials from the institution last week to start discussions on the project.
Mrs Van Der Westhuizen told Seychelles Nation that the current Standing Orders is the one that was used for the previous National Assembly and had been passed down to the Youth Assembly and so needed to be reviewed to be more relevant to the context of the youth parliament.
"We are working closely with the National Assembly not only because the institution is perfectly placed to give us advice and suggestions, but also because its officials are exposed to the youth assemblies of other countries and so have experience in this domain as well," she said.
"This year is our ninth year of existence and with our ninth group of young parliamentarians, it is a fitting time to review this document. With a proper Standing Orders, the members will be able to better understand how the Youth Assembly works."
Some examples of what needs to be reviewed in the document include procedures on how deliberations are held.
"We feel that aspects of the Standing Orders such as presentations of bills, first and second readings, questions put to the minister, judiciary-related questions and others are really not relevant to the Youth Assembly and should be removed," said Mrs Van Der Westhuizen.
"Others that are still relevant, such as respect for the chair – the speaker in this case – and the reflection – previously called prayer – will be kept."
Work on the Standing Orders is expected to be completed by the end of the year and legal advice will also be sought to make sure the document is legally correct.
Work will also be done to make sure motions presented and approved are followed up with the Youth Assembly to link up with the appropriate ministries or government departments.

This year will also see certain committees being formed, which will work closely with certain thematics, such as health, environment, education, and youth.
"If there are any motions presented on these thematics, the appropriate group will lead the research work in relation to the motions," the chief executive said.
Mrs Van Der Westhuizen said when work on the document is completed, the SNYC will print a large number of copies of the new Standing Orders so that each member of the upcoming Youth Assembly groups can have their own.