XXX Olympic Games in London from July 27 to August 12, 2012-Allisop bows out with head high
31-July-2012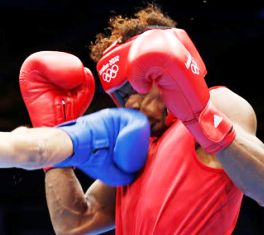 Aged 19, Allisop lost to Jai Bhagwan of India on an 8-18 verdict in the men's lightweight (60kg) category bout of the round of 32 at the ExCeL South arena in London on Sunday. He lost the first and second rounds on identical scores of 3-7, before losing the third 2-4.
Even though he is shorter than Bhagwan, Allisop withstood his opponent who began the bout with a series of punches, keeping the young protégé of coach Gerry Legras under pressure.
Bhagwan made good use of his superior reach advantage to outpunch Allisop and to equally defend his opponent's offences.
The Indian's next opponent is Gani Zhailauov of Kazakhstan in the pre-quarterfinals (round of 16). Bhagwan is a two-time Asian Championships medallist and a bronze winner at the Delhi Commonwealth Games in 2010.
"I must acknowledge that my opponent is superior to me in terms of both skills and experience," Allisop told Sports Nation.
He explained that the recent training camp in Cardiff, Wales, helped him a lot in standing the three rounds of the fight, before adding that the bout has been a learning experience and that he will go back to the gym and work on his weaknesses.
As for coach Legras, he also acknowledged the superiority of the Indian fighter, but is however satisfied with Allisop's performance.
"Andrique is still young and he is competing with the top 32 boxers of his category in the world," he added. He also described Bhagwan's superior reach as his main arsenal, restricting Allisop's offence and defence.
Coach Legras also expressed great hope and a bright future for his boxer in the 60kg category.
Meanwhile, boxing critics have described lightweight (60kg) class as highly competitive and have tipped Ukrainian Vasyl Lomachenko as the gold medal favourite.
Arguably one of the most skilled and accomplished amateur boxers of recent times, Lomachenko is a two-time world champion (2009 and 2011) and a gold medal winner at the 2008 Beijing Olympics (featherweight), He is already in the round of 16 after receiving a bye.
Cuba's Yasnier Toledo Lopez – whom Lomachenko defeated at the 2011 Worlds – is seen as one of the biggest challengers to the Ukrainian's bid for a second Olympic gold.
Then there are names like Domenico Valentino, Italy's 2009 world champion and 2011 World Cup bronze medal winner along with Kazak Gani Zhailauov also a 2011 World Cup bronze medal winner, and Evaldas Petrauskas from Lithuania who all will add to the mix in the lightweight division.
Like Lomachenko, Lopez and Valentino are in the round of 16 after also receiving byes, while Zhailaulov's bout against Thailand's Saylom Ardee finished on a 12-12 draw, but he escaped with a victory on the tiebreaking count back, which factors in punches that weren't scored by the majority of judges
As for Brazilian Robson Conceicao, who was expected to challenge for the gold medal, he lost 9-13 to Josh Taylor of Scotland.