XXX Olympic Games in London – July 27-August 12, 2012-Fanchette gets special cheers and PB at Aquatics Centre
31-July-2012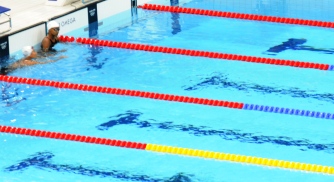 Fanchette lined up on the starting block for the 200m freestyle preliminaries yesterday at the Aquatics Centre and clocked two minutes 23.49 seconds (2:23.49) for a new personal best time to finish eighth in the race and 35th overall. Her previous best was 2:26.49.
Her times after each of the four laps were 32.08 seconds (first lap), 34.83 seconds (second lap), 37.55 (third lap) and 39.03 seconds (last lap).
The fastest qualifier was Italian Federica Pellegrini in 1:57.16 ahead of Allison Schmitt of the United States of America (1:57.33), and American teenager Missy Franklin (1:57.62). The final was scheduled for last night.
Fanchette described the race as "very tough since I competed against much older and more experienced swimmers."
She is, however, satisfied with her performance, especially with her new PB.
Seychelles' other swimmer at the Games, Shane Mangroo, will be in action today in the 100m freestyle.