Govt happy with D'Arros Island's new ownership
01-August-2012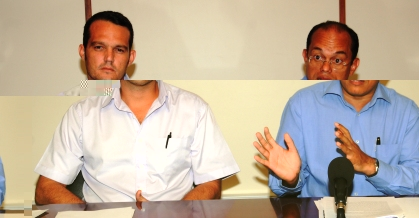 This was said by Environment & Energy Minister Prof Rolph Payet and Land Use & Habitat Minister Christian Lionnet during a press conference yesterday following the announcement that D'Arros will be declared a nature reserve.
"We are very happy because the new owners are conservation oriented, they have proven themselves with a good track record, having over 150 projects in 42 countries and they finance conservation efforts. We feel they have the right credentials," said Prof Payet.
He said the new owners are "not a newly formed non-governmental organisation (NGO) which wants to use the island's ownership as a cover for other kinds of activities".
He directed members of the media to the SOSF website where he said anybody can see the work the organisation has been doing, noting they have been working with local NGOs for several years now.
The SOSF, a non-profit making organisation that was created in Switzerland, is committed to protecting our oceans by funding research, education, awareness and conservation projects focusing on the major threats to the marine environment.
It has grown to become a major player in the fight to save the world's oceans and the wealth of marine life they contain.
Prof Payet said the SOSF was involved in efforts to identify the sharks that attacked tourists on Praslin not long ago and sought to see how sharks can be conserved without interfering with tourism.
Work has started to make the island of D'Arros a nature reserve where it will be protected.
"Some of our best protected areas are today managed by the private sector and NGOs," he said, naming islands with protected species.
"Previously D'Arros did not enjoy any protection. Anybody could have gone there and done what they wanted but now with protected status under the Nature Conservancy Act there will be enforcement and monitoring of the atoll," he said.
Mr Lionnet said that following publicity in the local and world media about Lilianne Bettencourt and the island, the government contacted her and explained she had broken the provisions of the Immovable Property (Transfer Restriction) Act by not involving the government in the acquisition of the island.
He said that she has since paid US $8 million to regularise the purchase, while the new owners Chelonia Company Limited and Swiss Laurent Moser have paid US $10.5 million as stamp duty and other taxes related to the transaction.