Cascade pupils win cartoon poster competition
02-August-2012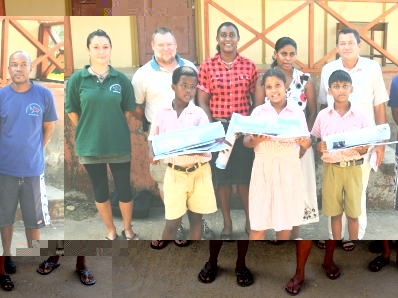 The three pupils – Fransesca Underwood who came out first, Yannick Delcy who won the second prize and Vimal Vikaria who finished in third position – received their prizes in a special assembly at the school recently.
This competition was put together by the Marine Conservation Society of Seychelles (MCSS) with its partners – the Mangroves for the Future (MFF) and Green Islands Foundation (GIF).
MCSS chairman Dr David Rowat presented the prizes which included posters, calendars and games to the winners in the presence of Cascade school's acting head teacher Jane Laurette as well as other teachers and pupils.
Also present were representatives of the MFF Lyndy Bastienne and that of the GIF James Chang-Tave.
Mr Chang-Tave explained that the poster competition was part of a project on coastal development that is taking place in the country.
He said through the drawings the pupils have shown their knowledge on several bad activities like littering and cutting of trees that are happening along coastal areas.
He said all this is part of a project to educate members of the public and people in leadership role on how to better develop the coastal areas so as not to destroy the environment.
Apart from Cascade, other schools also took part in the competition.
A copy of the poster was also handed over to Mrs Laurette and others will be distributed to other schools in the country.