Seychelles' carnival gets a splash in prestigious magazine
02-August-2012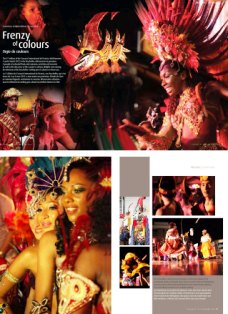 'Frenzy of colours' is the title of the full colour four-page account of the annual carnival that takes place in Seychelles.
"The 2nd edition of the Carnaval International de Victoria, held between March 4 and 6, 2012 in the Seychelles, delivered on its promises," writes the publication.
"A parade of colourful floats and costumes, activities and concerts as well as the discovery of the country's culinary delights were among the elements of the Seychelles' melting pot of cultures on showcase.
The atmosphere went up several notches on the main island of the archipelago, Mahe, during the three days of carnival. Some 30 delegations from all corners of the world contributed to the event's lively ambiance.
The 2013 edition promises to be equally exciting," Evasion magazine writes.
Kendy Mangra was the journalist /photographer who had travelled to Seychelles to cover the second edition of the carnival jointly hosted by Seychelles and La Reunion islands.
It will be remembered that some 130 foreign journalists travelled to Seychelles for the 2012 edition of the Carnaval International de Victoria. The contingent of journalists continues to grow annually and all the journalists have by now reported favourably on this year's carnival.
"Where else can one see a Brazilian delegation followed by an African cultural troupe from Zimbabwe followed by an exciting and highly professional delegation of drummers from La Reunion Island and artists from Indonesia," commented a journalist during the last carnival in Seychelles.
The 2013 edition of this annual carnival is set to be held in Seychelles from February 8-10.
La Reunion Island is again joining in as co-hosts, consolidating the spirit of the Indian Ocean Vanilla Islands.