Sacs meets tourism industry association to discuss tariffs
02-August-2012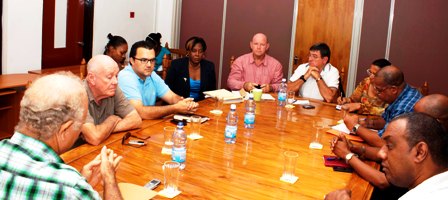 The Sacs representatives met Louis D'Offay, the chairman of the Seychelles Hospitality and Tourism Association (SHTA), and other members of the local tourism industry association committee to present and discuss the proposed tariffs.
In the presence of Tourism and Culture Minister Alain St Ange, the SHTA members agreed, in principle, that places providing entertainment such as hotels, restaurants, bars and nightclubs must pay the correct and appropriate tariffs to the Sacs.
The SHTA made the most of the opportunity to voice out its concerns to the Sacs and requested a revision of the tariffs list that was proposed to hotel and guesthouses so that it is more in line with the economic situation facing the tourism industry.
Minister St Ange described the meeting as "fruitful as both parties have now officially met and agreed on the broad lines to move forward and ensure the performers' rights are respected".
Mandated to protect the interest of local artists, the Sacs said that the list of tariff effective as of April 1, 2012 is based on international norms but that it could still be amendment by the board.

The SHTA and Sacs have agreed to meet some other time to discuss on the amended tariffs for different hotel categories.