The Olympics should be a source of inspiration for the youth, says minister Meriton
02-August-2012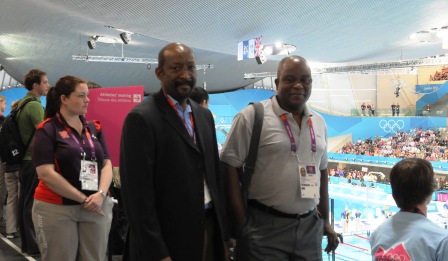 Presently in London attending the Games of the XXX Olympiad, Mr Meriton described the event as "a real success, both for the organisers and the athletes".
After getting the chance to visit the Games Village and meeting the athletes, Mr Meriton said he is impressed with the facilities and also the level of security, both in the village compound and on the Games' venues.
Speaking about the opening ceremony, Mr Meriton described it as "very unique, spectacular and enriching" as it showcased the various steps in the history and development of Great Britain.
As for our local athletes, Mr Meriton said their performances are good, judging from the level of competition at the Games.
He added that with a more solid and well-structured sports development programme, Seychelles will surely have the potential to seriously challenge other countries in future Games. Mr Meriton is being accompanied by principal secretary for community development and sports Denis Rose.

Text and photo: Roland Duval in London