Internal migration statistics help give better services
04-August-2012
Principal secretary for social affairs Linda William-Melanie stressed the importance of maintaining up to date statistics when the Population Unit within her department led activities to mark World Population Day recently, as technicians gave a presentation showing the result of a study done earlier this year.
Migration is a key element of demographic issues but is often not given its importance. The study looked at internal migration, which is the movement of people between districts and between islands.
It also looked at agencies that are collecting information, how they get it and what use they put it into. Further it looked at the extent that housing and employment are determinants of internal movement.
It was assumed that people will move because of allocation of government houses as the Ministry of Land Use and Housing's policy says 60% of houses be allocated to residents of districts where they are built and 40% from other districts.
Top 10 districts with most housing units and land allocation since 1981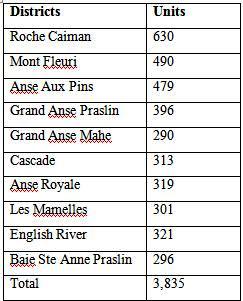 According to the last two censuses (2002 and 2010) Au Cap and Anse Etoile have recorded the highest number of in-migration, that is more people have come to live in these districts, but they are not featured among the top 10 districts with the highest number of housing units and land allocation over the last 30 years.
This shows that housing and land allocation is not the only factor for people moving to another district, people move due to other reasons such as getting married, cohabitating, renting private accommodations etc.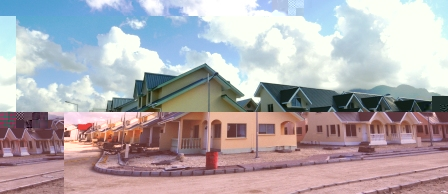 The study showed some districts lose and others gain residents as the following lists show.
Districts gaining residents
Au Cap, Anse Etoile, Baie Ste Anne, Bel Ombre, English River, Glacis, Grand Anse Mahe and Grand Anse Praslin.
Districts losing residents
St Louis, Anse aux Pins, Anse Boileau, Pointe Larue, Mont Buxton, Mont Fleuri, Plaisance and Takamaka.
Why do people move between islands?
People will move due to educational, economic and personal/relationship reasons. As there is no post secondary institution on Praslin and La Digue, an average of over 175 students per year have to move to Mahe to continue their studies. It is understood that the majority stay on Mahe after they complete their studies due to employment opportunities.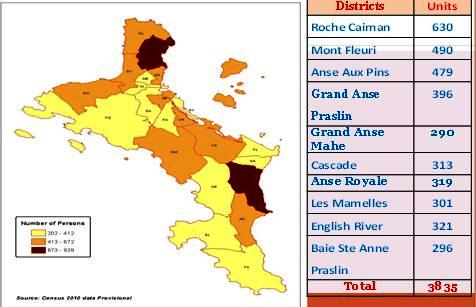 People will move due to economic reasons such as taking up employment in the many tourism establishments based on other islands. Respondents reported that the salaries were better than on Mahe as well as their savings prospects. There was also the opportunity to make new friends and work in a pleasant and less stressful environment. However the main disadvantage of going to work on other islands is the isolation, not being able to see the family, family break-up and long distance relationships. Although the isolation of working on other islands is hard on the family, it is an attractive option for many young workers who are willing to sacrifice a couple of years for a more secure future, as long as the financial incentive is there. Majority of people going to work on other islands were born on Mahe and are under the age of 40 years.
Islands Development Company, Labriz Silhouette and Ephilia Resort are some of the establishments the study covered.
Why is it important to know where people will move?
The statistics on movement of the population can determine the services required in certain areas, such as new schools, clinic or police stations. It is important especially for development planners to know the characteristics of the population moving – whether it made up of women, men, elderly or children -- as these will also determine the services that are being provided.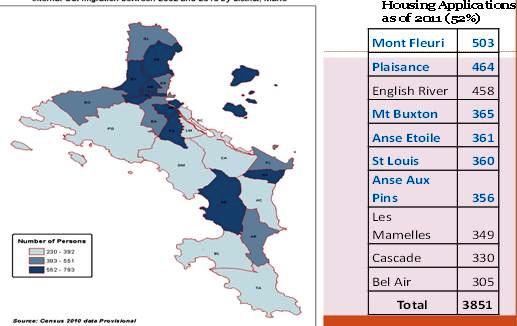 Therefore it is important to keep such information categorised especially by districts as this information will benefit better planning of services as well as knowing the population in general. It is also a way to collect information between censuses.
Feedback on this article is welcome and may be sent to: This email address is being protected from spambots. You need JavaScript enabled to view it.

Contributed by Population Unit, Social Affairs Department