Jouel sponsors diagnostic tools to boost early autism detection
07-August-2012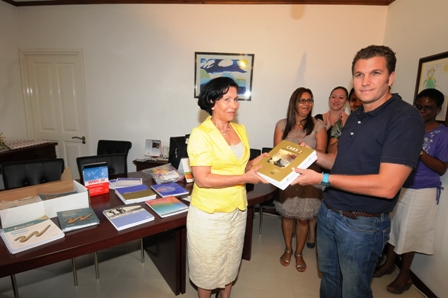 The tools which Jouel managing director Rod Thorrington handed over to SCF's chief executive Noella Gonthier, fall under the autism advocacy project partnership Jouel signed with the foundation in April.
Thanking Mr Thorrington for the donation, Mrs Gonthier noted that when the foundation discussed the autism advocacy project with the company, one of the main areas of concern explored was with regard to the proper assessment for early identification and intervention of autism in children.
"Early assessment means early detection and intervention for children," said Mrs Gonthier.
She added that this will also lead to timely information being given to parents.
Mrs Gonthier said now the next step will be to give training to the professionals who will be using the tools. This is expected to start next month.
The assessment tools will be kept at the Ministry of Education to be used by psychologists who will assess the children. They will also be used by health professionals as well.
Representatives of those two ministries are important partners on the committee which manages the autism advocacy project.
Mr Thorrington said it is always a privilege and a pleasure for his company to be involved in such important causes and that this is the first of many more steps in the right direction to come.