'Currency rates for customs to be set daily'
08-August-2012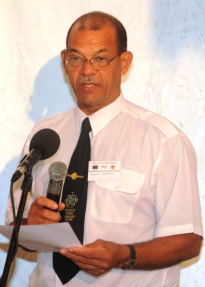 Assistant commissioner for customs Selwyn Knowles said on Monday when he launched a week-long workshop aimed at modernising the country's procedures ahead of World Trade Organisation accession.
He said the move is much fairer as it will take into consideration daily fluctuation of the foreign exchange.
Mr Knowles said the workshop is focusing on the Agreement of Article Vll of the General Agreement on Tariffs and Trade 1994, Import licensing, Rules of Origin and the status of negotiations on Trade Facilitation.
The workshop is expected to equip its delegates with a general understanding of the World Trade Organisation's rules governing the customs valuation and origin.
He thanked the African Caribbean and Pacific/European Union for sponsoring the workshop.
During the workshop's launch, legal consultant Dante Tricoli – who is leading the customs reforms team -- said it is not only the local business community that has to deal with customs that will benefit, but also the global trade partners.
Other trainers at the workshop are Guillerma Mogni , Zephania Muhigi, Erious Zgovu and Nelson Ndirangu – whose photo we published instead of that of Mr Tricoli by a regretted error.