Japanese teachers learn from Seychelles' experience-Environment education
10-August-2012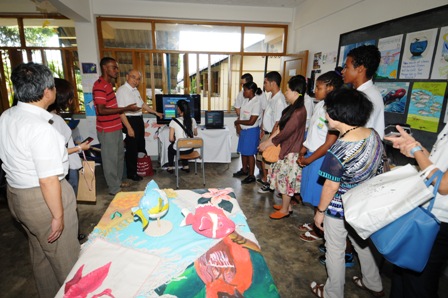 These teachers were accompanied by Professor Takesato Watanabe of the Doshisha University based in Kyoto, who is also the Japan-Seychelles Association secretary general.
At the Beau Vallon school they met deputy head teacher Davis Figaro and other staff members as well as students.
There they got the chance to view mural paintings which were being done by some students with their art teacher and learned more about the
school's recent involvement in national environmental competitions such as the Sub Indian Ocean Seychelles (Subios) underwater festival.
There was also an exhibition on recycling where the students have used cardboards and other used materials to make interesting objects such as boats and fishes.
At the Anse Etoile school they were welcomed by head teacher Daniella Antat.
There the delegation got the chance to see a project about marshes which the school will use as it takes part in the science fair.
They also visited a medicinal garden and fruit trees which have been planted by students in the school compound.
Professor Watanabe, who is on his 69th visit to Seychelles, said they are learning a lot from the Seychellois teachers and students about the importance of protecting the environment and integrating it in the schools' activities.
Such a visit will help us see how we can broaden the relationship between the young people of the two countries, he said.
He said Seychelles has an excellent environmental programme in schools and Japan has much to learn from this experience.
"Japan is a big industrialised country and in the process of development the people forgot the importance of nature."
He said the Japanese teachers who are from junior and elementary schools will be able to use the environmental programmes they have seen in Seychelles and integrate them in their curriculum.
Professor Watanabe said it is remarkable to see how students and teachers as well as the Ministry of Education and the Seychelles government are working together to ensure that the future generation values its environment.