Seychelles joins SADC mission to Madagascar
10-August-2012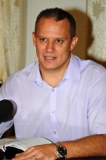 In a press conference held at the Maison Quéau de Quinssyon Thursday afternoon, Foreign Affairs Minister Jean-Paul Adam explained that
Seychelles would be taking part in the mission at the invitation of
President Jacob Zuma, chair of the Southern African Development Community (SADC) Troika on Politics, Defence and Security.
Though not a member of the Troika mandated to address the on-going crisis in Madagascar, Seychelles has been invited in recognition of its contributions to the talks and as holding the presidency of the Indian Ocean Commission (IOC).
"Following this set of talks we are very clear on the positions of both leaders, but what is also clear is that wider consultations are key for a durable solution to the crisis," said Minister Adam.
"This issue is bigger than a disagreement between two people," added the minister.
"We must also look at the wider issues and ensure that the gains and progress towards democracy made today, last for tomorrow."
Minister Adam explained that this SADC mission was charged with consulting with a wide group of people which include other local stakeholders of the SADC Roadmap and other important sectors such as the military, religious representatives, and the non-governmental sector.
Minister Adam, who is the current chair of the IOC council of ministers, added that President James Michel and the Seychelles government remain committed to playing whatever role necessary to bring this crisis to an end for the benefit of the Malagasy people and for the region as a whole.
"We want to get to a place where the people of Madagascar have confidence in their democratic system, and we are encouraged by the fact that a date has been set for elections next year, and we are pleased with the momentum added by these concluded talks, and now I feel we are in the home stretch towards free, fair and credible elections in Madagascar," he said.
Minister Adam will be joining South African Deputy Minister for International Relations and Cooperation Marius Fransman, who is also the special envoy to Madagascar, in Madagascar today.
The two Malagasy leaders – President of the Transitional Authority Andry Rajoelina and former President Marc Ravalomanana – were involved in talks at the Constance Ephelia resort on Wednesday with South African President Jacob Zuma in his capacity as chair of the SADC Troika on Politics, Defence and Security, and Seychelles President James Michel as host and current chairman of the Indian Ocean Commission (IOC).

Minister Adam, Deputy Minister Fransman and IOC secretary general Jean-Claude De L'Estrac also attended the talks.

Seychelles and Madagascar are members of both regional blocs.
Minister Adam said stability and constitutional rule are as vital for Madagascar as for the entire region, given the potential that the big island represents for regional integration and diversifying trade, amid a worsening global economic situation.
Mr Adam said the two-day consultations involving all political stakeholders, as well as representatives of civil society, churches, electoral officials, the police and military will sound out views on the implementation of the SADC Roadmap, leading to elections.

He added, however, that there is now a fair idea of the proposals to be submitted to the SADC Troika ahead of the summit in Mozambique's capital city Maputo from August 17-18, 2012.
Mr Adam noted that last week the United Nations set presidential elections for May 8, 2013 to be followed by parliamentary polls two months later.
Responding to questions from the press, Mr Adam admitted that some recent developments that came after the Desroches talks, such as the attempted return to Madagascar by Ravalomanana's wife, were seen as a provocation by Mr Rajoelina.

Mr Ravalomanana, however, insists that there had been agreement on Desroches for such a return.
There is also the court case filed in a South African court by alleged victims of a shoot-out prior to Mr Ravalomanana's ouster in March 2009, which is not helping the difficult situation.
Commenting on the SADC Roadmap, to which both men have agreed, Article 20 states that the Malagasy government must ensure that all former rulers can return to Madagascar and take part in elections, if they so wish.
However, Article 45 states that no international instances may interfere in the laws and judiciary of Madagascar, which remain sovereign.
This constitutes another hurdle, considering that Mr Ravalomanana has already been sentenced in absentia to life imprisonment by a court, whose legitimacy he does not recognise.