La Misère rallies behind tree planting campaign
13-August-2012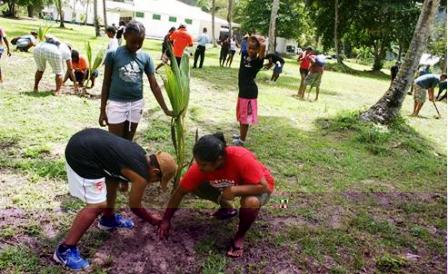 This campaign aims to get people in Seychelles to plant more than 20,000 trees this year.
The 64 electrifying participants got the messages loud and clear before they kick started the activity "without trees there would be no life".
Coordinator of the Wildlife Clubs of Seychelles, Terence Vel, gave the participants an overview of how the tree campaign started. It has to be noted that it started by an initiative to plant 10,000 trees on Ile Perseverance by President James Michel and Didier Robert of the Regional Council of Reunion, viewing it as a sound example for the new project.
Before planting the trees, the participants had planned to walk up the hill and the idea was to explore a nature trail in the La Misère community. The aim was to conduct an inventory of what type of native plant species grow on this trail. Check list on native plants species was given to the team to help them with the identifications. Amazingly the team discovered around 20 native plants species on the trail path to name a few, kapisen, bwa merl, vakwa-d-montanny, vakwa maron, koko maron, bwa rouz, lalyann potao, bwa kalou gran fey, bwa kafe gran fey and many fruit and spice trees.
After the vigorous walk, the participants were very optimistic to walk down to Le Méridien Barbarons hotel for the tree planting activity where they have planted 20 coconut seedlings -- donated by the Island Development Company -- on the beach fringe at Le Méridien Barbarons. In addition, they carried out a beach clean-up. After the activity they were hosted to a cocktail at the hotel.
"Our country is beautiful with all the green trees, we should keep the spirit going and value the tree campaign project as an asset and a possession for our community," said one parent.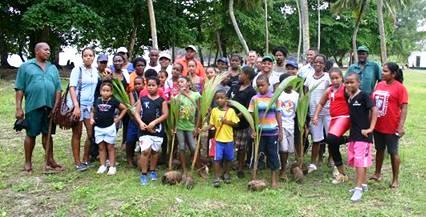 Other participants have expressed their commitment to be part of the team in a future event.
However during the nature walk it was observed that some trees might have been illegally cut down for timber.
Contributed by Wildlife Clubs of Seychelles