New brand of Tablet/Netbooks hits the local market
13-August-2012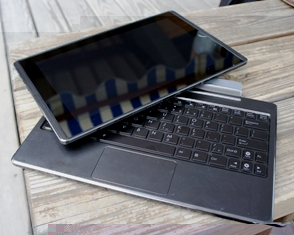 Sound & Vision Pty Ltd -- the well established distributor of Sony products since 1984 which recently this year diversified into selling Samsung TVs -- is now also marketing the Taiwanese Brand of ASUS products.
Based in Taipei, the Taiwanese multinational computer hardware and electronics company produces a range of very popular products such as motherboards, desktops, laptops, monitors, tablet PCs, servers, video cards and mobile phones under the ASUS brand.
It primarily sells products under its own brand but also produces components for other top manufacturers, including Apple, Dell and HP.
Recently Sound & Vision has started selling the company's brand of Netbooks which ASUS calls Eee PC Mini and its unique Netbook/Tablet combination called Eee Pad Transformer.
According to Sound & Vision's managing director Shirish Dhanjee, all these new products are competitively priced.
"The Eee Pad Transformer is a truly smart and beautifully designed, handy and convenient tool for everyone, especially for those always on the go," Mr Dhanjee remarks.
He points out that with the lid open, the Eee Pad Transformer looks like any other Netbook on the market but the interesting and remarkable feature is that the keyboard and the screen can be detached through an easy slide mechanism and the screen becomes a multi-touch tablet for the user's convenience.
Mr Dhanjee explains that the Eee Pad Transformer comes complete with all inbuilt ports (HDMI/USB) on board and that unlike some other tablets there is no need to spend extra on adaptors to have those port facilities.
"This is another reason why it is so ideal for the Seychelles market," he says.
The ASUS Eee Pad Transformer, as the laptop is called, comes with an impressive set of hardware, which allows it to set itself apart from other brands on the market. Together the two gadgets have an incredible battery life of 16 hours!
Mr Dhanjee notes that ASUS Eee Pad Transformer has been constantly ranked the number two Tablet after Apple for over one year running by Stuff, the prestigious British gadgets magazine.
Sound & Vision being also a partner in the government laptop scheme for post secondary students, Mr Dhanjee is confident that ASUS is an excellent and reputed brand for all to consider.
"The market and the growing demand will always be there for such products," says Mr Dhanjee.
He notes that for the time being only ASUS laptops and tablets are available but the company plans to market other products under the same brand in the future.
More information about ASUS products can be found on www.asus.com
Compiled by Marie-Anne Lepathy