Football: Airtel Cup -La Passe breeze past St Francis, St Louis Suns beat St Roch
13-August-2012
St Francis wanted a victory in their final pool match to put them in the right frame of mind for the second round of the Barclays league division one and they almost got off to a flying start in the fourth minute as Malagasy Branli Zizi Ratovonirina latched on Malamo Ducaud's through ball but goalkeeper Dave Mussard was quick off his line to thwart the danger.
La Passe responded in the 10th minute as Geal Jessinghaus released Malagasy Fanampin Fagnorena whose angled shot beat goalkeeper Andrea Libanotis but Nicolas Atala cleared the ball into corner.
From the resulting corner taken by captain Achille Henriette, the ball was cleared as far as Garry Radegonde whose 35m dipping shot was tipped over by goalkeeper Libanotis.
In the 32nd minute, La Passe's Jessinghaus punished some sloppy St Francis play as he dispossessed Malagasy Ducaud to feed captain Henriette, who, in turn, filtered a pass to Fagnorena who sprung the offside trap to slot the ball past goalkeeper Libanotis for a 1-0 advantage.
The goal rattled St Francis' defence and a minute later Renick Esther got the better of a defender but his blistering shot crashed in the side-netting as St Francis rode their luck.
Seconds later at the other end, Branli Zizi's header looked destined for the top corner but the ball somehow came off the crossbar.
La Passe should have doubled their lead in the 40th minute as captain Henriette threaded a pass to Fagnorena who fired at goalie Libanotis who blocked his shot which fell to Yves Zialor who hurried his attempt when he had all the time in the world to score against his former team.
La Passe came out with all guns blazing in the second period as St Francis started slowly and were made to pay in the 48th minute. Zialor exploited space to centre to Renick Esther who distracted goalie Libanotis at the near post and the ball rolled to captain Henriette who rammed it into an empty net for a 2-0 score.
A minute later, Renick Esther will rue himself for not getting on the score-sheet as he raced onto a through ball but he failed to lob Libanotis.
La Passe were rampant in the early stages and they stretched their lead in the 55th minute as Garry Radegonde played a throw-in to Renick Esther who squared the ball to Jessinghaus whose 30m shot crept in at the far post with goalie Libanotis slow to react as the score read 3-0.
St Francis tried to react in the 58th minute with Branli Zizi and Ducaud who sliced open La Passe's defence with a neat one-two but as the latter prepared to shoot Joel Esther produced a great last-ditch tackle to deny him as they tried to appeal for a half-hearted penalty which was turned down.
La Passe countered swiftly on the hour mark to go further ahead as Renick Esther galloped forward and his teasing cross was easily drilled home by Fagnorena for a 4-0 lead with the burly Malagasy grabbing his brace.
St Francis were given a life-line in the 75th minute as La Passe were playing with 10 men with Joel Esther receiving treatment on the sideline. It all started from Branli Zizi's through ball to his colleague Henry Randriamanana and he was tackled from behind by Pierre Fanchette for a clear penalty awarded by referee Alistair Barra but surprisingly he did not book the La Passe player.
Branli Zizi stepped up to send goalkeeper Mussard the wrong way for a 4-1 score.
The goal spurred St Francis and in the 79th minute substitute Radley Monthy tried to beat Mussard with a delicate chip but he was equal to the task.
La Passe were furious with the official in the 81st minute as he denied them a clear penalty when Rondy Onezime brought down Malagasy substitute Fredo. In the heated argument, Pierre Fanchette was booked by referee Barra for protesting and would have been sent off if he had been booked earlier.
La Passe's Renick Esther missed another sitter in the 84th minute as Jessinghaus played the ball to Fredo who sent in a superb cross to the former LightStars striker who shot wide with the goal at his mercy.
St Francis almost added a second goal in the 89th minute as Malagasy Henry played a free-kick to Stephane Barallon who was face to face with Mussard who blocked his shot and the ball fell to Atala but the La Passe goalkeeper made another great save to ensure his team were easy 4-1 winners.
St Louis Suns beat St Roch
St Louis Suns beat St Roch 2-0 in their last pool B match at Stad Linite on Friday.
St Roch fielded a depleted defence marred by injury and suspension and captain Nestor Benahovy had to drop back to marshal their rear line.
St Louis Suns had the first real chance in the 17th minute as Yannick Charlette and Trevor Poiret played a neat one-two. Poiret skipped past a defender but shot across goal.
Two minutes later, St Roch had an even better chance from Steven Télémaque's corner kick which was met by Malagasy Freddy Armand who headed across goal to Roy Julie whose hooked shot looked to be heading for goal until goalkeeper Elvis Leopold produced a good save to keep the score intact.
In the 22nd minute, St Roch's Armand pounced on a defensive error by Marlon Asba but he failed to beat goalkeeper Leopold at the near post.
Five minutes later, St Roch were denied a clear penalty when defender Steven Constance handled the ball on the floor as Nerick Athanase went past him and headed for goal. However, both referee Keiren Yocette and assistant James Emile did not signal for a spot kick and this really angered the St Roch camp.
To add insult to injury, St Louis Suns opened the scoring in the 33rd minute as Kelly Nibourette exploited space on the right to cross to Poiret at the far post. Poiret then played the ball across to Fabien Cadeau who scored past goalkeeper Julio Toulon to make it 1-0.
In the 35th minute, St Roch again were hard done by referee Yocette after he had rightly penalised Armand for dangerous play as he tried an overhead kick and almost hit Asba in the face.
As the two players were on the floor, Asba clearly hit out at Armand in retaliation and St Roch were calling for a red card but the official only issued a yellow card much to the disgust of the St Roch bench.
St Roch continued to try to redress the balance and in the 38th minute Armand released Athanase who bore on goal but goalkeeper Leopold did well as he was quick off his line to block the shot.
Three minutes later at the other end, goalkeeper Toulon gifted St Louis Suns a goal as he came out to clear the ball from the onrushing Cadeau. But his clearance fell to Poiret who intelligently lobbed him for a 2-0 half-time score.
St Roch showed more determination to get back in the match and in the 48th minute Armand hassled well for the ball but his shot was well saved by goalkeeper Leopold who had a good game on Friday.
On the hour mark, St Roch opened up St Louis Suns' defence as Télémaque sprinted down the right to centre to Julie who made a meal of a clear chance.
St Roch brought on Klaus Pragassen and Dan Pharce to add more punch to their attack, while St Louis Suns strengthened their midfield with Jonathan Bibi who came on for the disappointing Charlette.
St Louis Suns should have extended their advantage in the 68th minute from Bibi's cross-field pass to Nibourette who cut inside a defender to lay the ball on a plate to Travis Jerome who shot weakly at goalkeeper Toulon.
In the 73rd minute, St Louis Suns' Asba let in Armand who linked up with Télémaque but the goalkeeper Leopold saved his fierce shot at the second attempt.
St Roch goalkeeper Toulon almost gave away a penalty in the 77th minute as he struggled to control captain Benahovy's back pass and as Poiret closed him down, he tackled the midfielder to the ground. Fortunately for St Roch, referee Yocette turned a blind eye as it would have been miserable for Toulon who would have been sent off.
As the minutes ticked away, St Roch should have reduced the arrears in the 88th minute from substitute Dan Pharce's cross which Télémaque headed goalwards but the ball was cleared on the goal-line.
St Louis Suns should have put the icing on the cake in injury time as Poiret linked up with Travis Jerome whose close range shot was blocked as far as substitute Roddy Melanie who looked odds on to score but he blazed over with the goal begging and this proved to be the last kick of the game.
The following are the final tables of the Airtel Cup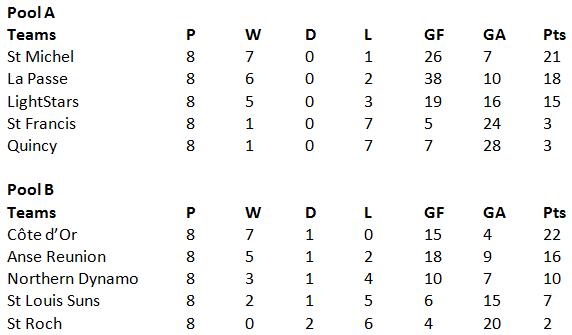 R. J-L.