Four Seychellois to pursue medical studies in Cuba
25-August-2012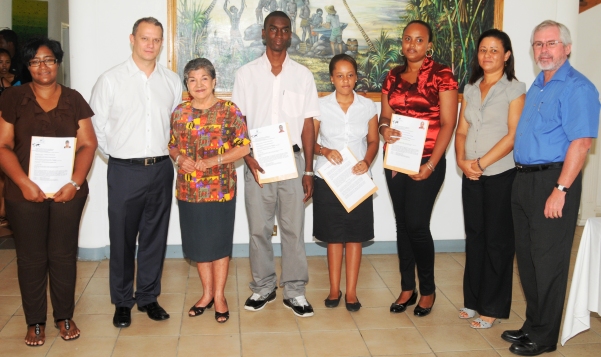 Maria Stravens, Sebastien Moutou and Stephanie Joseph received their documents and plane tickets from Cuban ambassador Maria Aida Nogales Jimenes yesterday during a ceremony held at the Ministry of Foreign Affairs, while Agnielle Denis' documents were handed over to her mother.
Attending the ceremony were Foreign Affairs Minister Jean-Paul Adam and principal secretary Maurice Loustau-Lalanne, National Human Resources Development Council (NHRDC) chief executive Margaret Pillay and parents.
Addressing those present, Mrs Jimenes congratulated the four young Seychellois who have been selected to pursue their studies in Cuba.
She said it represents the testimony of the friendship, fruitful and firm cooperation which exist between the two countries.
Mrs Jimenes said this cooperation contributes not only in the development of human resources in Seychelles in sectors such as sports, health, agriculture, architecture and economy, but it also helps to reinforce the relationship between the two peoples.
Mrs Pillay thanked the Cuban government for its contribution towards the development of human resources in Seychelles.
She called on them to work hard, to learn and respect the Cuban culture.
Minister Adam said the scholarships represent the good relations that exist between the two countries.
He said Seychelles and Cuba have a common interest, which is to invest in their people so as to ensure sustainable development and a bright future for them.