President's visit launches higher level ties with Sri Lanka
25-August-2012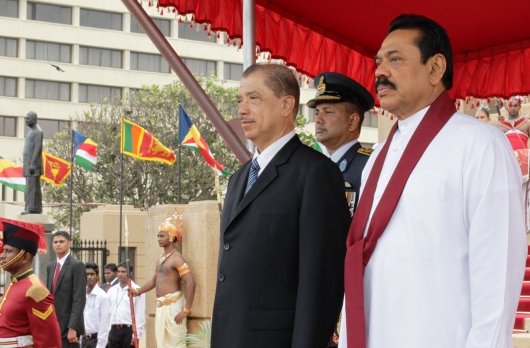 President Michel and Sri Lankan President Mahinda Rajapaksa witnessed the signing of the agreements, aimed to establish and strengthen exchange and cooperation in the fields of health, education, employment and legal affairs between the two countries.
The agreements were signed by the Seychelles Minister for Foreign Affairs, Jean-Paul Adam, the Sri Lankan Minister for External Affairs Professor G. L. Peiris, as well as the Sri Lankan Minister for Education, Bandula Gunawardane and the Sri Lankan Minister for Foreign Employment and Welfare, Dilan Perera.
Also in President Michel's delegation were Natural Resources and Industry Minister Peter Sinon; the Seychelles high commissioner to India who is accredited to Sri Lanka Waven William; the acting director general for trade in the Ministry of Finance, Trade and Investment Charles Morin; the chairperson of the Seychelles Civil Aviation Authority David Savy, and the chairperson of the Fishing Boat Owners Association Beatty Hoareau.
Mr Michel met the country's Minister for Economic Development Basil Rohana Rajapaksa and talked of the "great potential" for Seychelles to develop air links, trade as well as fisheries cooperation with Sri Lanka.
President Michel on Thursday delivered a speech at the Lakshman Kadirgamar Institute in which he called for greater synergy among island nations.
Published here pictures highlighting some of the major events which marked the visit.