Better Life Foundation does community work at rehab centre
30-August-2012
Members of the group joined with footballers of Bel Ombre-based St Roch team as early as 8am to help clean, paint, cut shrubs and trim trees at the rehabilitation centre.
The aim of the activity is to help make the centre more comfortable for both staff and patients.
After a day of hard work under the hot sun on Saturday, they enjoyed a nice lunch together prepared by the rehab centre staff.
During lunch, the foundation further learned about the centre's needs.

The foundation aims to primarily improve people's lives by mostly identifying and carrying out projects for the benefit of society.

The foundation currently has 10 members aged 25 to 35 years old and who hold key responsibilities in both the public and private sectors.
It is looking for more members – people who have the passion and dedication to help better the life of other individuals in the community.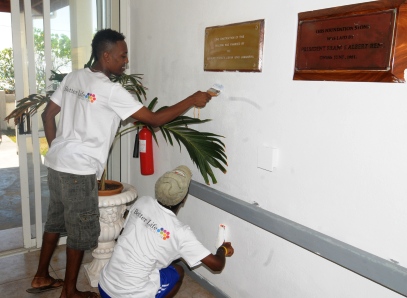 Better Life Foundation' chairman Marco Francis said they need members who are role models and must be an inspiration for others to look up to.
"The programmes to be organised by the foundation has no boundaries, and the first project that we are currently drafting will mainly focus on reinstating values in the younger group of the population and we will soon be discussing with key stakeholders of the project to ensure its success," he said.
"There are also other key issues the foundation is very passionate to focus its efforts on, ranging from empowerment of women, skills building, training and health programmes, to name a few."
He added that the foundation's vision is to complement and work with other NGOs in the community and together play a more active role in the community.
Other members of the foundation said there is no greater satisfaction than to positively impact on the lives of others in the community and although they are all working professionals, they are very committed to devote their time and energy towards the betterment of the people.

The foundation will soon launch its website and Facebook pages and welcomes others to join to help create a Better Life.