Cable & Wireless gives computers to A-Level school
01-September-2012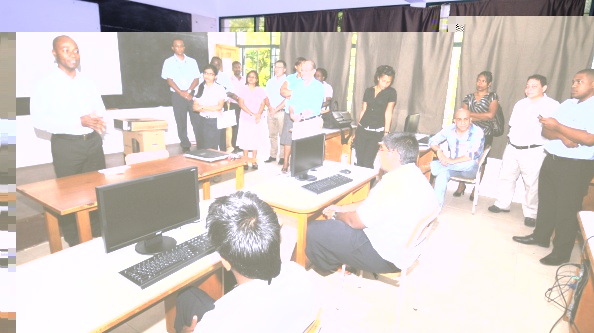 In a short ceremony at the school's computer room at Anse Royale yesterday morning, the telecommunications company chief executive Charles Hammond handed over a batch of 10 desktop Acer computers to the Ministry of Education's director general for schools Odile Octave.
This was in the presence of the principal secretary for information communications technology Benjamin Choppy, Sals principal, Dr Chirasree Sen-Varma, lecturers and students.
Thanking Cable & Wireless for the timely donation Dr Sen-Varma said the computers would be of great help for both students and teachers especially now that more and more students are taking up computing course at A-Level.
A-Level computing is said to be a very demanding course and students need to use computers a lot to do projects and research. It is believed that now with the new batch of computers students will have more computer access and time while non-computing students will also have computers to do their research work.
Mr Hammond said Cable & Wireless has a long and ongoing relation with the Ministry of Education, and noted in 2007 the company launched the broadband for schools initiative where it provided broadband connectivity to all state schools.
"Cable & Wireless was also the very early initiator of information communication technology in Seychelles over 119 years ago when Seychelles was connected to the very old version of submarine cables from Zanzibar," he said.
"It is therefore appropriate at a time when the country has just been connected to submarine cable to be helping out the students with such essential tools," Mr Hammond said.
He added that the company is happy to have the opportunity to help out and thanked the department of information communication technology (DICT) for identifying the institution's need and bringing it to the company's attention.
He noted that as time goes by the ICT landscape in Seychelles will continue to improve because the standards have been set very high and Cable & Wireless will continue to give similar help where it can.