Ephelia to host Seychelles Ball
01-September-2012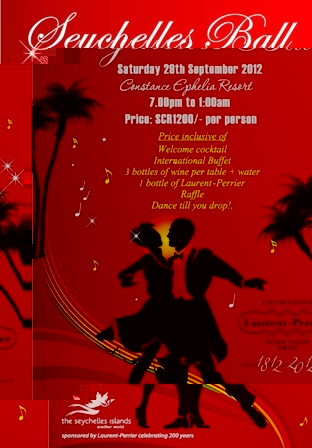 All guests will receive a formal Hollywood-style red carpet welcome for the event organised by the Celebrate Seychelles Events Department within the Seychelles Tourism Board (STB).
The evening will once again help enhance the image of tourism – the industry that remains the pillar of the Seychelles economy.
The STB has been thanked by everyone over the last couple of years for organising events with a difference and the Seychelles Ball is now firmly established on its events calendar as one of the main events for the annual celebration of World Tourism Day.
Tourism and Culture Minister Alain St Ange said if Seychelles does not celebrate World Tourism Day we would be seen as hypocrites because the islands depend on tourism.
"We are committed to not only defend the industry that remains the pillar of our economy, but we also continue to work tirelessly to consolidate it. Everyone involved directly or indirectly in the industry need to show public support for tourism on World Tourism Day.
"Tourism is more than just hotels and restaurants. It encompasses everything that makes our economy, and on the night of the 2012 Seychelles Ball all those who believe in our country's tourism industry will be present," Minister St Ange said.