Maritime authorities learn how to better track ships with new technology
03-September-2012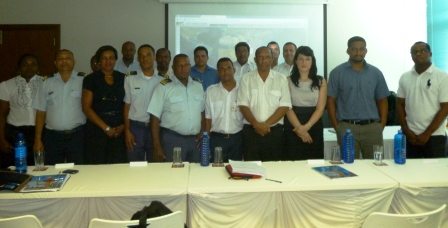 A two-day workshop was held at the Seychelles Petroleum Company (Sepec), where various stakeholders learned about this technology.
Although LRIT is not new to Seychelles – as a number of bodies already have this technology – it was not being used to its full potential.
The workshop was led by Julian Longson and Monica Hunter, both from the Pole Star Company, a business which specialises in maritime-related security and other marine issues.
LRIT is an activity done by the SMSA in compliance with international maritime laws, where Seychelles can track its flagged merchant ships, including the tankers. The vessels can be tracked all around the world for security and compliance purposes.
Mr Longson said it is important for the SMSA to be able to track its vessels, because the organisation has a duty of care over ships in its registry and as the country is also part of a global village and is obliged to share information on ships with other nations.
"For example, the United States of America, may track a Seychelles-flagged vessel entering its port for security reasons, so that everything develops smoothly and the same may be done in Seychelles for all ships, not only Seychelles-flagged ones," he said.
The director general of the SMSA, Captain Joachim Valmont, said his organisation will benefit from the workshop by being more tech-savvy in this field.
"It is mandatory for us to have this service now more than ever and all the information we have gained will be very useful for us in the future," he said.
Mr Longson said shipping companies are obliged to have the LRIT equipment on board that will comply with international standards, but it can be bought at a relatively cheap price.
"Now the next step is for the coast guard and border state control to actually start using the system and the SMSA will be installing usernames and passwords for other stakeholders to start logging in," he said.

The SMSA said since all the equipment are already in place, they will meet key stakeholders like the coast guard and ports authorities early this week to get them to use LRIT as soon as possible.
"Now ports authorities will be better placed to monitor and control ships coming in as early as three days prior, have all their details and more too; and will not have to rely so much on shipping agencies for these kinds of information," said Capt Valmont.

"LRIT will also help greatly in the issue of piracy, with better tracking, the coast guard will also benefit from such a system."