Pilot project to help cut disaster risk at community level
03-September-2012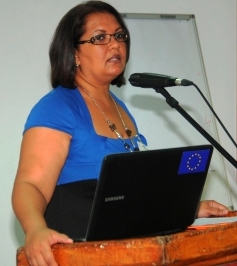 Anse Boileau, Roche Caïman and Ile Perseverance have been chosen, where existing and potential hazards in the district will be identified and tackled.
The project will also strongly involve the residents of the communities, who will have a strong role to play in reducing risks in their communities and also in dealing with disasters at district level if one ever occurs.
Led by the Red Cross Society of Seychelles, the project is being done in collaboration with a number of partners including the department of risk and disaster management (DRDM), the meteorological office, and some local non-governmental organisations.
A one-day workshop for the stakeholders was held on Friday at the International Conference Centre.

Red Cross project coordinator Roy Nibourette told Seychelles Nation the three districts have been chosen for the pilot project due to them having the most residents that are Red Cross volunteers.
"Since this is a pilot project, it does not mean we will limit this project to those three districts," he said.
He said Anse Boileau and Ile Perseverance have a disaster management plan, but Roche Caïman does not, so the latter will have to be screened for potential hazards like flooding, tsunamis and falling rocks.
The project has received a grant of around US $20,000 from Mangroves for the Future (MFF), an international non-governmental organisation with an office in Seychelles. The Red Cross Society has also matched this grant realising a total of US $40,000.
During Friday's workshop, there were various presentations by the stakeholders, which included some from representatives of Nature Seychelles, DRDM and the meteorological office.

The workshop was officially launched by the president of the Red Cross society Barbara Carolus-Andre.
"The expected results in line with both Red Cross and MFF objectives are to promote community leadership; involvement and community resilience, promote education and individual motivation based on understanding of ecosystems and the need to contribute individually to solving environmental problems, sustain livelihoods and food security through production from home gardens adapted to coastal areas and to reduce risks related to disasters," she said.

Mr Nibourette said at the end of the project, there will be certain activities done at district level, such as the planting of crops at their residences, carrying out a vulnerability and capacity assessment, and from there develop an action plan of activities to address them.

The project will also seek areas threatened with coastal degradation, where activities like mangrove and tree-planting will be done.

Mr Nibourette said the project is an opportunity to show the good relations between the Red Cross, the district authorities and communities.
The project – which kicked off in May this year – is for one year and will come to an end in April next year.