Seychelles at Commonwealth ministers' meeting
03-September-2012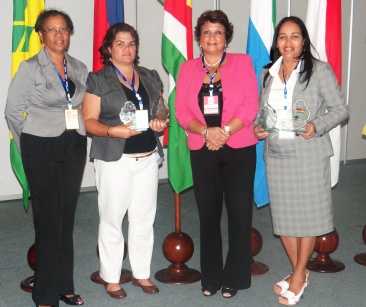 She was accompanied by principal secretary for education Merida Delcy and other education officials at the gathering, where Prime Minister Kenny Davis Anthony of St Lucia made the keynote address.
The aim of the meeting was to discuss the theme, Education in the Commonwealth: bridging the gap as we accelerate towards achieving internationally agreed goals.
Seychelles gave a presentation called The Impact of Language Reform in the Seychelles Education System: Introduction of First Language as Medium of Instruction.
Seychelles is also one of the 10 finalists among 123 countries for the Commonwealth Best Practice Awards 2012 for two projects: the Reading Scheme Aprann Lir Ek Papiyon and the environment project Rain Water Harvesting.
This country was also among the finalists for the Commonwealth Best Practice Awards 2006 at the 16CCEM in Cape Town, South Africa, for the School Improvement Project.
The triennial conference is the largest ministerial meeting on the Commonwealth calendar where four parallel forums took place from August 28. These were the Teachers' Forum, Post-Secondary and Tertiary Leaders Forum, Youth Forum and Stakeholders Forum.

The other members of the Seychelles delegation at the 18CCEM were chief executive of the Institute of Early Childhood Development Shirley Choppy, principal curriculum and assessment development officer, Egbert Benstrong and coordinator of the rainwater harvesting project Jeanette Larue.