Flower enthusiasts host second colourful flower show
03-September-2012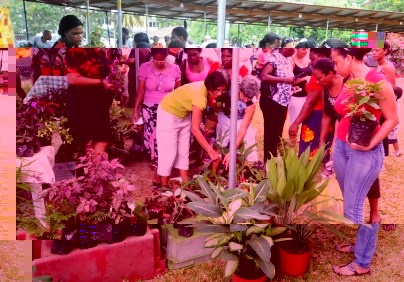 Held at the Camion Hall grounds, the group – which is recently formed –displayed a variety of flowers from various categories.

Flowers had adorned the grounds of Camion Hall, and their categories were labelled with exotic sounding names like begonialeae, bromelialae, heliconia, bromelialae, liliaceae and araleae.
Others had more common category names like flowering and non-flowering plants, shade plants, ferns and window boxes.

Although the display was the main point of focus, there were also samples of the plants for sale, whose prices varied from R25 to R300.
Violet Breeze's chairperson Gemma Chanty-Young told Seychelles Nation that the money raised would go to a fund that they will use for their next activity.
"We need a fund to pay for venues, rent tables, get table-cloths and make everything as nice as possible for visitors," she said.

"It is our aim to have two shows per year, one for African Violets in December, and another where we vary our flowers, although we have been asked to host shows for various events like Mothers' Day, which we will take into consideration."
The group's first show was in February, at the Botanical Garden, where they focused mainly on African Violets, hence the group's name.

"We chose a name from a flower that was introduced to Seychelles, but at the same time is a beautiful house plant, which many people love, but unfortunately has almost disappeared here," she said.

The group currently has 12 men and women members.
Mrs Changty-Young said many people have expressed their interest to join them.
"We are not in this for profit, flowers are our leisure and we would definitely like to receive more people in the group who share this passion," she said.

"In the group we discuss flowers, share tips on growing them, encourage each other to expand variety of plants, exchange plants, and do lots more, so it is definitely a fun and rewarding activity."