New metal compressor makes scrap management easier on Praslin and La Digue
03-September-2012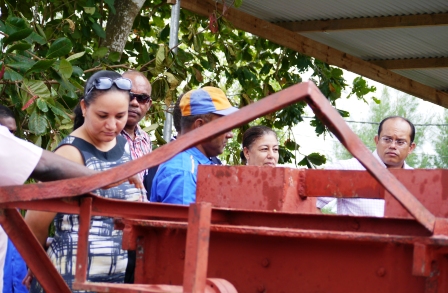 The machine is the first on the island and is managed by Samlo, a company responsible for scrap metal collection and management.
During a recent visit to Praslin to familiarise himself with waste management issues, Environment and Energy Minister, Professor Rolph Payet, said this new move is a landmark for the island as "scrap metal is now money on the international market".
"These can now be compressed and cut, put in containers ready for export here on Praslin, without costing government a cent.
"When I visited La Digue earlier this year, one constraint from the Diguois was the management of scrap metal which was just being dumped leading to accumulation.
Now Samlo will, at its own cost, transport these from La Digue to Praslin. These will be processed then transported to Mahe ready to be shipped to the international market," said Prof Payet.
This new venture will lessen the burden on government and also provide a healthy environment as the accumulation of scrap metal provides breeding space for rodents and mosquitoes which are serious threats to human life.

And as we are nearing the Clean up the World Campaign, Minister Payet is appealing to members of the public to remove all old cars, roofing sheets, scrap metals and other debris from their homes, and transport those from to landfill where they can be processed properly.
Accompanied by environment and energy principal secretary Wills Agricole, Landscape and Waste Management Agency (LMWA) chief executive Lena Desaubin, and representatives of the district authorities of Grand Anse Praslin and Baie Ste Anne, Professor Payet was on Praslin to see different issues related to waste and landscape management on the island.

"Generally, a lot of effort is being put to maintain the green landscape of the island, which is important for tourism," said Minister Payet.
"However, Praslinois must not take these efforts for granted as the community should join in the national efforts to beautify their island and more importantly support these initiatives."