Seychelles seeks UK partnership in sports and social renaissance
03-September-2012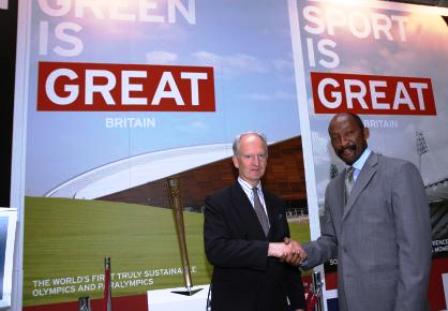 These highlighted meetings held last week in London between the Designated Minister Vincent Meriton, who is also the Minister for Social Affairs, Community Development and Sports, and UK officials.

Minister Meriton was in London to attend the opening ceremony of the Paralympics Games (from August 29 to September 9). He represented President James Michel who had been invited by the UK government.
Minister Meriton's first meeting was with Henry Bellingham MP, Parliamentary Under-Secretary of State in the Foreign and Commonwealth Office, with the ministerial portfolio for Africa.
Discussions centred on the importance of sports development, as well as sports as a vehicle through which to address social ills and a foundation on which to build relations.
"Sports", Minister Bellingham said, "can bring nations together, contribute towards peace and improve the health of populations."
Minister Meriton used the occasion to present Minister Bellingham with two project proposals with the potential of strengthening bilateral ties.
These were the Physical Education and School Sports (PESS) programme and the social renaissance initiative.
The aim is to get expert help from the UK in developing local capacity of sports federations, enrich physical education and schools sports as well as capacity building and skills enhancement of workers in the social field including rehabilitation of addicts, family therapy, youth work and prison services.
Further discussions with Minister Bellingham brought up the issue of piracy. The British minister expressed his government's appreciation on the lead role that Seychelles is playing in the fight against piracy.
He added that "having the Regional Anti-Piracy Prosecution and Intelligence Centre (RAPPIC) coming on stream in Seychelles is terribly important" in helping to trace and disrupt the flow of piracy money.

Both ministers agreed, however, that stability in Somalia remained key to solving the problem of piracy.
Prior to his meeting at the Foreign and Commonwealth Office, Minister Meriton also met Paul Masters and Annamarie Phelps, both members of the British Paralympics Board.

They discussed the establishment of a partnership between the British Paralympics Board and the sports for disabled persons' movements here in order to tap into British expertise in assessing the structure that the country is developing and eventually, to form an umbrella organisation for Paralympics sports in Seychelles.