National Assembly committee starts media houses visits
04-September-2012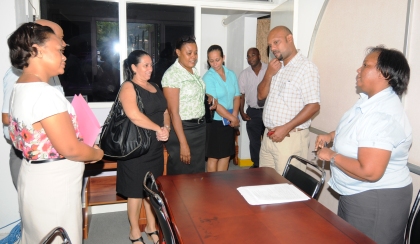 The parliamentarians were led by their committee's chairperson Marie-Antoinette Rose – who is also the leader of government business in the Assembly.
She said the call was part of a series of visits or contacts with media organisations interested in reporting activities of the National Assembly.
With her were the committee's vice-chairperson David Pierre – who is also the leader of the opposition in the Assembly – and its members Chantale Ghislain, Nichole Barbé, Galen Bresson, Maria Payet Marie.
They were received at Nation by Nisa's chief executive Murline Volcère and assistant directors Gerard Govinden, Marie-Anne Lepathy and other managers, with whom they held a meeting before interacting with staff.
Ms Rose said the contacts are aimed at fostering understanding between the media and members of the National Assembly, "as we share with them how we feel they should be reporting on the Assembly's proceedings and our other activities".
She said there are many things about the Assembly to report on but it is not always that the media sees the need to cover them.
"Many people also do not understand how the Assembly works so we tend to rely on journalists to educate the public about what goes on in parliament and how we can better serve the public we represent."
She said since the work of parliament is changing, so also should the reporting, adding the media needs to alter their angles of approach where necessary.
"There is a lot more work that we are doing so there is a need for greater reporting," she said, acknowledging there is always a difference between the way the media covers politicians and the way they wish to be covered.
The type and quality or work the parliamentarians are doing is different and a lot is happening within committee, hence the need for a boost in reporting, said Ms Rose.